Hmm. What should I do this morning until we have to leave for our massage, I lay in bed thinking to myself, half-asleep.
I looked at the clock. 6:30 am PST. 8:30 am at home.
Andrew and I were visiting San Francisco with friends, our first vacation together as official empty nesters. We only dropped our son off at college last month so we weren't wasting any time apparently.
[In all fairness, we booked our flights way back on New Years Day following a not-to-be-missed email offering roundtrip flights to the City by the Bay for only $350!]
The 'boys' had left the hotel to golf and I wasn't meeting my friend in the lobby of the hotel for another four hours to walk [downhill thankfully!] to our massage.
Overcoming my inertia and laziness, I decided I had no excuse but to hit the gym and practice my newfound morning meditation, parts of my routine that I do at home most mornings.
The entire week in San Fran flew by and we packed in as much as possible each day.
Wine tastings in Sonoma.
Walking explorations of Chinatown, Nob Hill, the Financial District, North Beach, Fisherman's Wharf, the Presidio.
Muir Woods.
Boat tour of San Francisco Bay, including the Golden Gate Bridge and Alcatraz.
Monterey and Carmel.
And the food. My gosh, the food and wine. Andrew and I had to come home to detox from all the food and wine we drank on the trip.
Each day was just as exciting as the day before and we never really went by a schedule per se so we had lots of free time too. Hence, my dilemma of how to spend my time before my massage.
As amazingly awesome as it was to visit a new city and throw my daily schedule out the window (no alarm clock-yay!), both Andrew and I were ready to come home after the week was over and get back to our normal routine.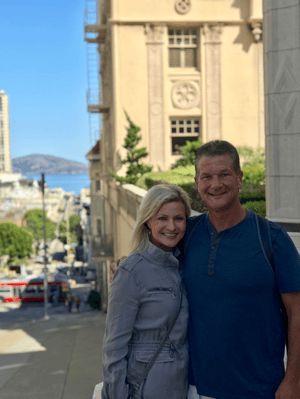 Routines, the same ole, same ole day in and day out, can get monotonous to some but I'm a firm believer that a properly crafted routine can actually make your daily life more enjoyable and productive.
Sure, I may tweak something in my daily routine occasionally. [For example, I started meditating each morning several months ago which, to my astonishment, has been life changing for me. More on that in another post.]
But, for the most part, both Andrew's and my daily lives look the pretty much the same as they have been over the last five years, which must mean that we actually like our lives together and must be doing something right. [Either that or we're gluttons for punishment.]
As Andrew might say, our routine might be a bit boring but it's better than a sharp stick in the eye!
Systems, as my Uncle Jim calls his daily routine, is the key to a happy and successful life journey.
I whole-heartedly agree because I too am a "systems" person as anyone in our office will tell you.
We have a well-oiled and well-documented system for crafting estate plans for our clients that not only deliver the desired results but that also keep plans simple and easy to implement.
So, although it may be fun to live by the seat of your pants sometimes on vacation and "wing it", the last thing you want to do is "wing it" in your real life and certainly not with your estate plan.
Andrew and I, happily married 24 years now, are staying put for a while and have no travel plans other than the upcoming Alabama-Tennessee football game next month in Tuscaloosa. What about you? Do you have a daily "system" or routine that you live by that works well for you? I'd love to hear your thoughts.
Kristen "Never One to Wing It" Marks
P.S. Click here to order your FREE copy of my book and learn how to avoid the 10 Most Common Yet Easily Avoidable Estate Planning Mistakes that cost your family thousands of dollars in unnecessary legal fees and time delays, and learn how to make the transition process simple for your loved ones.
P.P.S. Click here to schedule your Estate & Legacy Planning Consultation with My Pink Lawyer®.