Well, he's off.
My son has departed for Latvia to study abroad this Summer. Maybe it hasn't sunk in yet but I'm not weepy like I was when we dropped each of our kids off to college or when I left my daughter in Denver earlier this summer.
I do find myself thinking about the time difference often, however (eight hours ahead of us!). When I awake, it's mid-afternoon in Latvia. By the time I head to bed, it's the middle of the night there.
I suppose the good cell service and wifi is helping. Being able to text whenever I want is a big change from when I studied abroad in a small central city in France during the Spring of my Sophomore year in college. This was before cell phones and internet. I wrote and mailed letters home the old-fashioned way to stay in touch with family.
Andrew's and my 26th wedding anniversary is this Thursday and we are headed to Colorado to celebrate with three nights in Vail and three nights in Denver. I'll get my "kid fix" spending time with our daughter, Jill, who you may recall is now living in a suburb of Denver.
I'm looking forward to cooler temperatures this weekend in Vail (the projected forecast has lows in the 30s!) and getting a mental reset as we head into Fall.
In other news, the roof replacement at our condos continues into its 5th month now. I don't know what the heck is taking so long but the workers toil away daily seven days a week. They are a common fixture now in our complex so their presence doesn't phase me.
Until this past Saturday morning that is.
You may recall that I struggled initially when we moved into our condo with the window treatments for the large picture windows in our master shower which overlooks the pool. Between my desire for privacy and my husband's desire to see the water while showering, we compromised on a half covering type of situation which is usually fine.
However, on this particular Saturday morning, I finished up my shower, turned off the water and as I turned around to grab my towel, I looked up and what do I see out of the top half of the uncovered window?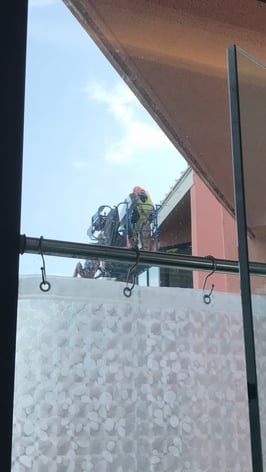 A dude on a telescopic boom lift working on the roof of the neighboring building, that's what.
You've never seen someone crouch down so fast in your life!
After my heart stopped racing, I actually started laughing at myself. How could I have missed him earlier when I was getting into the shower? Oh well, I thought. It's probably nothing he hadn't seen before anyway.
I've always found laughter to be the best medicine for embarrassing situations.
What isn't a laughing matter, however, are the phone calls to our office from family members whose loved ones are in the hospital or dying from terminal illnesses who haven't ever planned their affairs.
Sometimes we can accommodate those clients (such as the gentleman last week who was too physically weak to get out of this car to sign his Will so we met him in the parking lot to do so).
But other times, there's nothing we can do. It's too late.
If a client cannot communicate their wishes to me about who they want to handle their affairs and inherit their assets, they are left to the mercy of state laws and a future judge that will dictate such matters for them.
The best time to plan is now while you have the opportunity to do so. And then be thankful that you have plenty more opportunities thereafter to update your plan as your circumstances change.
And since I like to laugh and find humor a great medicine when discussing sobering issues such as death, most clients actually enjoy the planning process in our office.
[My husband tells me that he's always amazed when he hears laughter coming from my office.]
And hey, you just never know what other embarrassing stories I'll tell on myself when we get together!
Kristen "Who Prefers Not to Shower With an Audience" Marks
P.S. Have you checked out the video page on our website recently? https://www.mypinklawyer.com/video
P.P.S. Request a free copy of my book to prevent the most common estate planning mistakes from happening to you! https://www.mypinklawyer.com/get-free-book