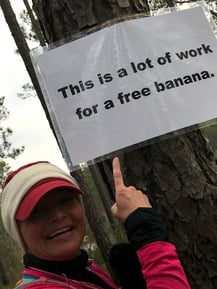 The Blackwater 50K Trail race that I've been training for is less than three weeks away. We are now in our "tapering" phase of training with "lighter" weekly mileage runs (only 15 miles last weekend!).
With so much training under our belts, I'm frankly just ready to get this race over with.
Don't get me wrong. I'm super excited about the race but the training has been a long road and many a weekend has been devoted to getting prepared.
I've been training for almost four months now and during that time, I've experimented with many aspects of my training.
I've changed shoes several times.
I experimented with massage, rolfing, foam folling, stretching, and salt water tank floating to ease my aches and pains.
I've tried different nutrition tactics on our long runs from gels, nutrition bars and gummies, to liquid nutritional supplements, to "real food" such as boiled potatoes, orange slices and homemade energy balls (I've been told my balls are delicious! ha ha).
I've experimented with electrolyte supplements and water consumption.
I've tried handheld water bottles, hydration backpacks, and waist packs.
Having run through almost every weather condition possible, I've run in a variety of clothing from the minimal shorts and tank top to looking (and feeling) like the abominable snowman with all of my layers of warm and dry clothing.
I won't even get into the various electronics I've experimented with: headphones, earbuds, cell phone, GPS watches, run tracking apps.
Nor will I bore you with my race vest packing list (ibuprofen, toilet tissue, hand sanitizer, food, the occasional mini Fireball bottle, band aids and Biofreeze, just to name a few important contents).
Why do I even bother with all of this experimentation?
Because I will have ONE CHANCE at the upcoming race to be prepared. Or as prepared as I'm ever going to be.
Similarly, you will have ONE CHANCE TO BE PREPARED WITH YOUR FAMILY SUCCESSION PLANNING.
Just as my upcoming 50K race has a deadline, you too have a deadline with your Family Succession Planning.
At least I know when my race deadline is. You probably won't have the luxury of knowing your family succession deadline.
Which is why it is important for you to always be prepared. And to always be tweaking your plan to keep it current.
When you are no longer here, your Family Succession Plan is the legacy you will leave your loved ones to ensure that your children are raised by the people you choose, that you protect their inheritance, and that you eliminate unnecessary government interference and exorbitant legal fees and lengthy time delays.
The Family Succession Plan that you leave your family is your one and only chance to leave a good FINAL lasting impression.
Do you want to leave your loved ones a mess?
Or do you want to leave them a well-crafted succession plan for them to carry out YOUR wishes with minimal hassle and expense?
Family Succession Planning is what we specialize in at My Pink Lawyer.
If you are a Florida resident, you can reserve your Family Succession Strategy Session here:
http://mypinklawyer.youcanbook.me
Crazy Amy and I had previously agreed that we wouldn't discuss any more ultra races for at least a week after the Blackwater 50K.
But watch out. Crazy Amy has been scheming and has already started emailing me links to other upcoming 50K trail races later this year.
I suppose it would be a shame to let all of our training and race preparation go to waste!
Kristen "You Can Never Be Overprepared" Marks