"We all have an expiration date. How we care for our bodies affects the quality of our shelf life."
I wish I could remember where I read this quote to give the author credit but I loved it enough to promptly write it down in my journal last year.
Andrew and I have been diligently trying to get back into shape. A year of few trail races lead me into a more sedentary lifestyle and the pounds slowly piled on.
I do not enjoy cooking, however, I enjoy eating immensely.
Last year, Andrew and I discovered a meal service that we both enjoyed. Boil-in-the-bag meals that were low-calorie, portion-controlled, and delicious.
We didn't have to think about what we were eating for dinner each night. Just grab a meal and heat up the perpetual pot of water on the stove.
We were devastated upon returning from our most recent trip to Mexico a couple of weeks ago to receive an email from the company that they were closing effective immediately. No explanation. Nada. Zip. Zilch.
Andrew told me to hop on their website to stockpile their final stock of food.
Nope. The website was already taken down.
So, it is now back to the drawing board on our meal service.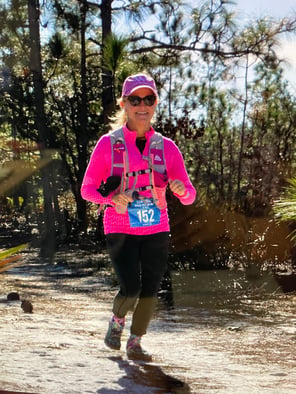 Obviously, what we eat, how much we consume, what and how much we imbibe, all play a role in the functioning, not to mention size and shape, of our eternal home here on Earth—our bodies.
Another often overlooked aspect of our lifestyle that affects the quality of our lives is movement. As I like to preach: use it or lose it!
Your body is 'done for' once you stop moving it regularly.
I have no schedule when we are in Mexico. I can't tell you how lovely it is to wake up each morning to the sounds of the birds and waves crashing in from the Pacific and not to a jarring alarm clock.
Yet, even with my "decadent" mornings, I still moved my body every day, taking long walks in the morning and practicing yoga or pilates on the terrace.
I continue to regularly move because my body feels better when I do. I like to work out the kinks that middle age brings.
Plus, now that I am officially in menopause [damn, hot flashes and night sweats are a real b*tch!], I really have to keep moving because I know the science shows that my metabolism will continue to slow down even more.
Which is why Crazy Amy and I are continuing to train, albeit more slowly, for several upcoming trail races, including a 30K race in Bryce Canyon in late May.
A corollary to the "Use it or Lose it" philosophy is the "Plan it or Lose It" theorem. If you don't plan your affairs for your ultimate demise, you risk your assets not passing to the folks you want or in the manner you intended.
I wrote a book on this subject—how to avoid the ten most common estate planning mistakes in Florida.
And don't let the title throw you off, guys. The book is gender-neutral!
You can order it from the homepage of our website for FREE.
So, in addition to planning your estates, I encourage you to also take care of your body.
Listen to it. Your body will tell you if something is wrong.
Take care of your body. And plan your affairs.
And, if you need any inspiration, I love talking about both subjects!
Kristen "Moving It So I Don't Lose It" Marks