I pulled up to my mom's house last Sunday morning. She greeted me at the door with a basket of drinks and snacks in one hand and a U.S. Atlas in the other.
"What is THAT?!," I asked incredulously.
"Oh, just some snacks for the road," my mom replied.
"No, in your other hand," I retorted.
"An Atlas so we don't get lost."
"Unh-uh. No way. Put that down. Welcome to the 21st Century, Mom. My car and phone both have GPS."
"Are you sure?...," she chortled.
When I didn't waver (though perhaps cracking a smile), she reluctantly relented and left the Atlas (which was the size of my torso) at home.
My mom and I were embarking upon a road trip to North Alabama to pick up her fifth senior Golden Retriever rescue. My mom lost her beloved Bodhi in the Fall and she was finally ready to welcome another deserving canine into her home.
Although we felt a little like Thelma and Louise on our overnight excursion to Athens, Alabama, we managed to not get into any (too much) trouble. After all, we were both observing a "dry" January. [Cheers to February!]
"Arthur," a seven-year-old Golden Retriever mix (a mail-in DNA test kit will confirm his actual pedigree), may not know it yet but he has won the doggy lottery with my mom adopting him.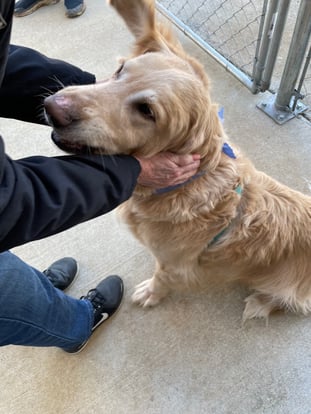 My mom treats her pets like children. Actually, as her only child, I can fairly say that my mom treats her pets even better than her children! [Love you, Mom!]
Many of us with pets do treat them as well-loved family members and it can be devastating when we lose them.
It can be just as devastating to your pet when they lose YOU which is why you should make pre-need arrangements for them should you die.
These arrangements can range from the informal, such as your family knows who will accept the loving responsibility of caring for your animals when you're gone.
Or, your arrangements can be more formal in writing in your estate planning documents. Some clients choose to leave a monetary gift to the person who will be caring for their pet. Some clients even set up Pet Trusts for their kitties and doggies.
These are issues you should be sure to address with your estate planning attorney at your initial consultation.
To schedule your Florida Estate Planning Consultation, click here or call our office: 850-439-1191.
Not to be outdone, while my mom adopted another dog, I too decided to adopt last weekend.
Meet "Fred," my estimated to be five-year-old bamboo palm. He's adjusting nicely to his new digs and family. I'm proud. He's growing like a weed. He's almost as tall as me!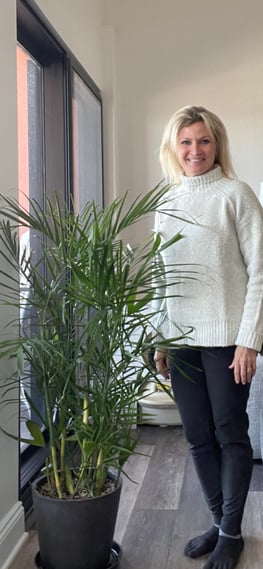 [Sidenote: Seriously, Fred was a big step for me. I have the opposite of a green thumb and manage to kill any living flora that crosses my path. I figured if I gave Fred a name, lovingly talk to him every day, and water him weekly, he may be a part of our family for longer than a month which was my last record.]
Kristen "Aspiring Horticulturist But Not Yet Ready to Quit My Day Job" Marks