"How many tries did it take you today?"
"Fudge! [but not "fudge"] Took me 6 tries this morning."
"Talk about a bad loser. Just admit it. I smoked your *ss today."
"Thanks for making me a smoothie this morning. I take back calling you a 'loser' earlier."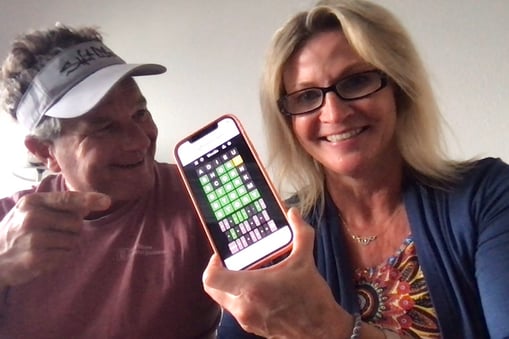 I've created a monster in the form of a daily word game played on our phones.
I was first introduced to Wordle about six weeks ago when our nephew spent his college Spring Break on Pensacola Beach with friends.
I had heard about "Wordle" but didn't know how to play it. Aidan was gracious enough to teach his "bless her heart" aunt.
Wordle instantly became a daily obsession and, not one to keep my excitement to myself, I soon had my mom and father-in-law hooked too.
Sometimes I will get stumped and ask Andrew for help. After a few times, my ever-encouraging husband finally questioned why he was helping me instead of just playing himself.
That's when I created a monster.
Who knew that Andrew was so competitive, especially with me?!
Andrew woke up early Saturday morning. When I joined him in the living room, I found him intently staring at his phone with intense focus. He was already dressed for the gym but apparently, his workout would have to wait.
Thirty minutes later, Andrew was still there, poor guy, muttering curses under his breath. Meanwhile, I was almost done with my Peloton workout.
I felt a tad sorry for Andrew [just a little sorry, mind you, given the light-hearted trash talk I'd been enduring the last few days] and let him in on a little secret. He had an entire 24 hours until midnight to finish the word puzzle and he didn't need to solve it in one sitting.
He finally did solve the daily challenge after his workout, prompting the "Fudge!" text to me above.
After an insane year working almost every weekend in 2021, I decided over the winter holidays to make some changes in my work-life balance. One of those changes is starting my day a little later (no more waking up each morning at 4:45 am!) and factoring in some downtime in the mornings at home to enjoy my daily cup of coffee instead of slugging it down on my way to the office.
The daily Wordle over that morning cup of coffee is the perfect way to start my day.
As much as I enjoy playing Wordle each morning, I also love helping clients craft estate plans to ensure that their hard-earned money and assets make it to their intended recipients in the easiest, least expensive way possible.
Just like Wordle with lots of combinations of 26 letters to work with, clients have multiple estate planning tools to work with to create the perfect recipe to carry out their planning goals.
The attorneys at My Pink Lawyer® are trained to suggest planning options that keep estate plans as simple as possible while still helping clients avoid probate and save their loved ones time and money.
As competitive as my husband and I are with Wordle, it's all in good fun…mostly.
Andrew's parting words before leaving for the office this morning was, "Maybe tomorrow you'll do a little better. Or do I need to come back and start helping you?"
Kristen "Wordle Junkie" Marks
P.S. Is it time for an estate planning reboot? If so, call our office to schedule an estate planning review meeting with us. 850-439-1191
P.P.S. I am guest speaking on avoiding the most common estate planning mistakes this Friday, May 6th at 10am at the Gulf Breeze Senior Center at St. Francis of Assisi Episcopal Church in Gulf Breeze, Florida. Join me!