"What are those ladies doing, running back and forth in the parking lot?," I queried.
Amy started looking around like a dog on the hunt. "Where?"
I just stared at her, bemused.
"Oh, you mean us, don't you?," she replied.
Yup, I sure did.
"Well, any runner would know exactly what we're doing," she laughed.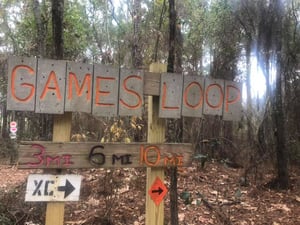 Crazy Amy and I were slated to run 20 miles on the trails this past Saturday as part of our training for our upcoming 50 MILE! trail race next month.
I was T…I…R…E…D, at mile 18 ½ when we passed by the car.
I told Amy that I would be fine if we stopped early, but NO. Crazy Amy was having none of that despite the fact that I suspected she hurt worse than I did.
So another out and back it was, ¾ of a mile one way and then back again.
To my dismay we made it back to the parking lot with another 0.15 miles to go so back and forth we walked (yes, walking counts!) through the parking lot as I eyeballed my Garmin running watch.
Heaven forbid I would "run" one step further than exactly 20.0 miles.
And we didn't.
Well, I ran my 20 miles. Even though we ran together the entire way, Crazy Amy's watch only logged 19 miles and change. But shhh, I won't tell if you don't! (Sorry, Amy. Ha ha!)
This weekend's run might actually turn into my last training run before our race next month.
My mom is having major surgery in Virginia this week so I will be flying up to be with her and likely returning for another visit later in the month.
Even the best laid plans get sidetracked at times. Just ask my mom. She certainly wasn't planning on having brain surgery the month before she retires.
But life is full of twists and turns despite our best efforts to plan our futures.
Which is why when planning your own estate, you must account for contingencies. This is where a well-versed, seasoned estate planner comes in handy. Having worked with hundreds of clients over the years, our office has seen a LOT of situations and we know the right questions "What If?" questions to ask to ensure the Estate and Legacy Plan you craft for your family protects them in a variety of future unknown situations.
We offer No-Obligation Estate and Legacy Planning consultations for new clients for only $197.

Even if you don't hire My Pink Lawyer® to put together your Estate and Legacy Plan, you will come away knowing where the estate planning gaps in your current situation lie, your current creditor exposure of your assets, and DIY suggestions on how to immediately improve your current plan to save your family time, money, and headaches.
If you do decide to hire us to assist you with your estate planning, we will guarantee you a fixed, flat fee for our services so there are never any surprise bills.
Even though I won't be meditating at my self-imposed silent retreat on my birthday this week as originally planned, I will have plenty of time to self-reflect in the hospital waiting room.
And my mom better believe that there's no place that I'd rather be on my 50th birthday than celebrating what I'm sure will be a successful surgery to remove what my mom calls the "goober" in her head!
Kristen "Just Rolling With the Punches" Marks
P.S. I believe there are still some last-minute spots available for our Free Lunch Workshop this Thursday, December 12th, 2019 at the Fish House in Pensacola that our office is co-hosting. Call our office to RSVP: 850-439-1191.