"You should've seen the look on the dude's face when I told him I was from Florida and asked what type of cold-weather gear I should bring with me," my son laughed.
"He paused a solid ten seconds before telling me that it would not be unusual to see twenty below freezing in December," Drew said, describing his recent Zoom call with his program director.
My son leaves in a couple of weeks to study abroad this Fall in Latvia, a Baltic state formerly a part of the Soviet Union located in Northeastern Europe across the Baltic Sea from Sweden. [Yes, I had to look it up.]
The average temperatures in Latvia will range from highs of 70 degrees Fahrenheit in August to lows of zero degrees in December when my son's Russian language study abroad program ends.
Talk about culture shock. I don't guess that my son will be spearfishing over there like he's been doing all Summer.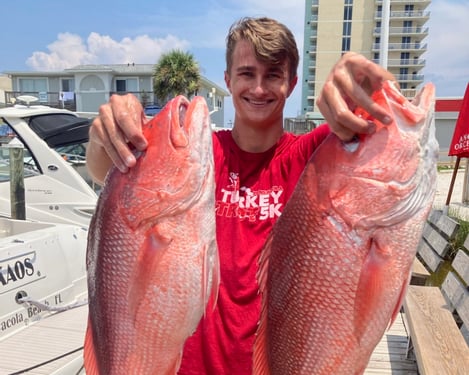 Better Drew than me, I think. I did my time in Hanover, New Hampshire for four years for my undergrad at Dartmouth College and I never acclimated to the cold temperatures. No joke when I share that I wore long johns under my clothes 24/7 from November-February every year.
At least I had cold-weather gear and could readily buy more gear as needed.
My son has no cold-weather gear and I don't think Amazon Prime ships to Latvia.
We spent some time this weekend scrambling to purchase clothes for my son. It's a tricky balance of buying cold-weather clothes that tend to get bulky while still wanting to travel light.
And clothes are just the start.
There's the Visa to finalize.
Covid test to take (not too early but in enough time to get the results back).
Calling the credit card company to let them know he'll be traveling out of the country.
Calling AT&T wireless to inquire about international calling and data plans.
There's a lot of planning left to do but with a looming deadline of an August 19th flight, there's pressing motivation to get one's act together.
Unfortunately, most folks do not have a known looming deadline for getting their estate planning affairs in order. Even with a health scare or illness, one usually does not know how much time they have left to plan and get themselves and their families organized.
Which is why I advise every adult no matter your age, net worth, or family status to plan now and periodically re-assess your plan on a regular 3-5 year basis.
Sure, we won't think of every contingency—just as Drew will still likely forget to do or bring things on his trip—but we can come close and we can certainly address the most common planning concerns about avoiding probate, saving time, saving money, and making the transition of your assets and affairs as effortless and simple as possible when you're not around.
Did you know that you can schedule your estate planning consultations with us online?

Click here to see our upcoming availability and the types of appointments we offer.
Expect one sad momma in a couple of weeks as I wave a tearful good-bye to my son at the airport.
As a boy, my son is not likely to stay in close touch with us like his sister in Colorado. Plus, Jill is just a short non-stop plane ride away. Drew will be halfway around the world and eight hours ahead of Pensacola.
I hope you'll help me stay busy so I don't worry myself to death over the next four months. Call us and hit me up for an appointment!
Kristen "Where the Heck is Latvia again?" Marks