"OMG. I cannot believe how good this is!," I complimented Jill a few weeks ago.
As we were shopping to outfit the kitchen in her new apartment, Jill spied an air fryer and said that was the number one item on her list.
Another gadget collecting dust is more like it, I thought to myself, but I held my tongue.
Both of my kids have been singing the praises of air fryers for the past year. They each had roommates who had one.
Pshaw, pshaw, I say.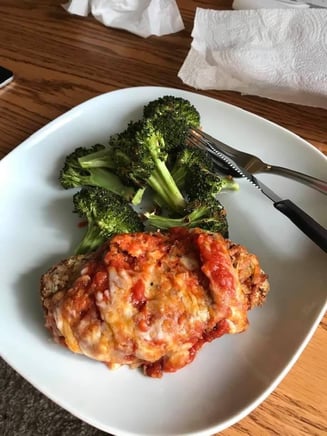 Then, Jill cooked me dinner that evening. Chicken parmesan in the air fryer. "Wow" is all I can say.
So what do you think I did that evening as I was scrolling through my phone?
I opened my Amazon app and ordered me a new air fryer to be delivered upon my return from Denver.
And I have been burning that thing up almost every night since.
Air fried broccoli.
Roasted chick peas.
Buffalo cauliflower.
Lemon fried tofu.
Garlic roasted potatoes.
I've been burning up the Air Fryer like I burned up my Instant Pot a couple years ago when it was new.
You see, I have a love/hate relationship with cooking.
I dread the meal planning and prepping part of it. The actual cooking part is ok. The eating part? That's my favorite. I love to eat!
So when it comes to cooking meals, sometimes I just need a little inspiration.
Kinda like when I buy a new pair of running shoes to inspire me to start running again.
Heck, sometimes I even get inspired to clean when I see a new cleaning gadget in the store!
Although not a fun type of inspiration, sometimes a health scare or death of a loved one acts as "inspiration" to "encourage" folks to get their estate planning affairs in order.
The good news is that after almost three decades of helping clients craft their estate plans, we've honed the estate planning process to a tee.
The hardest part for clients is scheduling the initial consultation. After that, our office does all of the heavy lifting and guides you through the planning process, breaking each phase down into bite-sized steps:
Schedule a meeting with us.
Let us assess your situation.
Together, we will create your plan to save your loved ones time, money, and hassles.
One of the best parts of an air fryer, besides the tasty and FAST cooking food, is the easy peasy clean-up.
I'm all for anything that's simple and makes my life easier.
We can help you make your estate planning simple too!
Kristen "Call Me the Air Fryer Queen" Marks
P.S. I've recorded some new videos on our website if you care to check them out! https://www.mypinklawyer.com/video