"Wow, I think I'm on pace to beat my time from last year," I thought to myself as I leaped over downed logs and carefully avoided tripping on tree roots.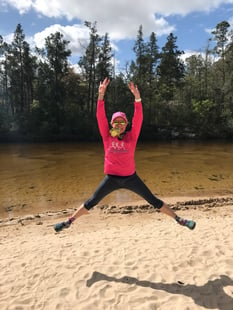 Crazy Amy and I were back on the trails this past Saturday for the Blackwater 10 Miler, just three weeks following our Antelope Canyon 55K adventure.
Although I will never win any speed records, I felt great and it was so much fun to hit the trails again. This course was totally different from Antelope Canyon which was slick rock and deep sand for most of the course. This course was the traditional "technical" wooded trail with lots of roots, hills, water crossings, mud, and pine needles.
I've been working out every morning since Antelope Canyon (one of my current "habits" I'm developing into a routine) and planning seven workouts for the week instead of four without getting burned out is a bit challenging. After all, I'm not gonna run every morning nor hit Orange Theory every day either.
So, I decided to mix things up and have attended two spin classes at Ride Society downtown.
Talk about HARD-AS-ALL-GETOUT. It's not only physically challenging but super humbling as well because….
Well, I won't sugarcoat it. I suck riding a bicycle, even a stationary one.
"Pedal to the beat," the instructor says.
Yeah, right. I used to think I had good rhythm but apparently not on a bike as my legs flail. I'm the Elaine Benes version of a spin class participant. (Any other Seinfeld junkies reading this?)
"Now, left, right, center. Pedal, pedal, pedal!"
I look around the dark room and there's this bike ninja in front of me. Not an ounce of fat on her and she makes riding her bike look so effortless. I'm just proud of myself for staying on the damn bike and pedaling the entire time, albeit at half speed from everyone else. Turns out she's a local Federal judge. Go figure.
At one point, I glanced up at the mirror to see a blur of legs all pedaling in sync. At least I think they were all in sync. It looked like a sea of roadrunner legs to me. Remember roadrunner from the cartoons? Yeah, that's what these legs in my class looked like. A blur of perfectly choreographed lower extremities.
Finally, we get to slow down for the "weight work." Yay, I cross train at other gyms and like to think I'm fairly strong for my size. Two pound weights? No problemo. I got this.
Uh, WTF? My arms were on fire, my biceps shaking like jello salad.
Turns out multiple repetitions of low weights WHILE STILL PEDALLING, mind you, is not as easy as it looks.
Mental note to self. Grab the one pound weights next week.
"Now, turn it up a notch! Increase your resistance by one turn!"
No thank you. I think I will keep it on this weak ass resistance instead. But of course I reached my hand down to the resistance knob to at least pretend I was turning it to make it harder.
I am not used to be the least coordinated person in a workout class.
I guess I feel in spin class like some of the clients I work with who are overwhelmed when they come to see us to design their estate plan. Some tell me that they don't know enough to even ask me any intelligent questions.
No problem. Family Succession Planning is our forte. Our friendly and knowledgeable attorneys help you discover and implement simple, practical, and effective estate plans that save your family time, money, and headaches.
Unfortunately, unlike qualified estate planning professionals who can guide you through the estate planning discovery process, a spin instructor can't do the heavy lifting for the riders in her class. Sure, she can lead but it's up to everyone to either keep up or feel like they're dying trying. It's every man (or woman) for himself.
Apparantly I'm a glutton for punishment or, as my husband frequently tells me, pig-headed, because I purchased a package of ten spin classes. Two classes down, only eight left to go.
To add insult to my humiliation, my ass hurts for a week after each class.
Yeah, the Tour do France probably ain't in the cards for me. Guess I'll stick to the trails.
Kristen "No Biathalons in My Future" Marks
P.S. Big changes are coming to My Pink Lawyer® soon so stay tuned. In the meantime, I have some pretty cool videos on our website to get you started on your estate planning journey. Bonus points if you can watch them while riding a bike!