Do you ever feel frazzled and not sure what you should be doing at any given moment?
Or maybe you feel like you are being pulled in a million different directions?
Do you have work, family, and friend demands on your time?
If so, you are not alone and I just finished a book that I think you will find helpful to bring your life under control (assuming you carve out the time to read it!).
The One Thing book by Gary Keller (of Keller Williams Realty) teaches you how to have less activity clutter, distractions and stress, and more focus, energy and success by asking yourself one simple question:
What ONE THING can I do to __________ (insert goal, etc.) such that by doing it, it will make everything else easier or unnecessary?
In other words, what's your most important priority that moves you in the direction of your one goal?
This question can be applied both long-term and short-term and for different areas of your life.
I've heard it said that we overestimate what we can accomplish in a day and underestimate what we can accomplish in a year.
But by asking yourself this one question, applied to both your long-term and daily goals, you will focus on your MOST IMPORTANT activity that moves you forward towards your goal and encourages the falling away of the extraneous demands on your time.
Personally, I have chosen three important areas of my life to set goals for this year: Family & Friends, Fitness, and Finances (including my business).
Let's take Fitness for example.
What ONE THING do I want to accomplish this year with my fitness goals?
Finish a 50 Mile Trail Race before the cutoff time by the time I turn 50 in December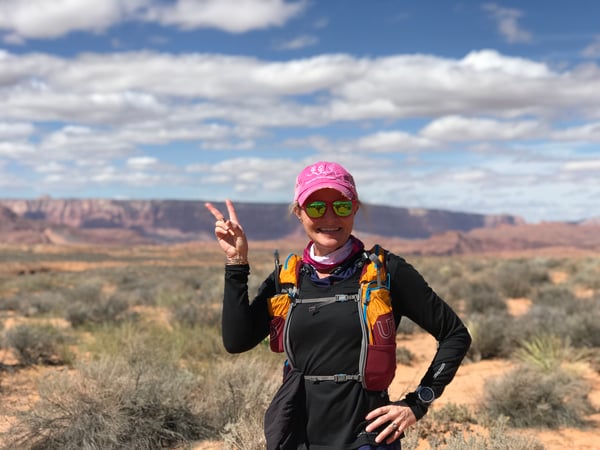 In order to accomplish this goal, what ONE THING should I be doing such that by doing it, it will make all other things easier or unnecessary?
Maintain a lean body weight of _____ between now and the race
[As my Nanna used to say, a lady never shares her age or her weight. Well, I've already shared my age in this post but I'll hold back my weight at least, Nanna!]
Anecdotally, I've already shared in a previous post how my running has improved in efficiency and speed and the toll it takes on my body when I am thinner so I know that maintaining a low body weight will significantly improve my chances of finishing a 50 mile race within the cutoff time.
In order maintain my ideal lean body weight of ____ between now and the race, what ONE THING should I be doing such that by doing it, it will make all other things I could/should also be doing towards this goal easier or unnecessary?
Work out every morning for at least 30 minutes, whether it's go for a run, cycle, attend a fitness class, etc.
Again, this next step was tough to decide because I could think of lots of things I should be doing to maintain a lean body weight (count my calories, weigh myself everyday, eat a certain diet, periodic fast, etc.). Some of these activities I am already doing but again, from experience I know that when I work out in the morning, I naturally have incentive to watch what and how much I eat so I don't "waste the workout."
So I have set a goal of working out EVERY MORNING, rain or shine, rested or not, feeling well or not, on vacation or at home. There is no excuse.
Some workouts will no doubt suck. Others will rock. But I will lace up my shoes each morning regardless and break a sweat to not only knock out my ONE THING early in the day but also to set the tone for my day. If my day turns to sh#%, at least I will have accomplished my ONE THING and that will be a huge accomplishment.
You get the idea by now about setting goals and breaking them down to a single activity that will have a domino effect of every other activity that will help you reach your goal faster and with less effort.
I can't wait to apply this goal setting process to the other important areas of my life too.
Let me know what YOU want to achieve this year and what your ONE THING is that you will do TODAY to guarantee you nail that "mother" by December 31st!
Kristen "50 Miles or Bust" Marks
P.S. Have you seen our extensive video library on our website yet? They include short snippets explaining Florida estate planning, probate, and guardianship matters. You can check them out here.