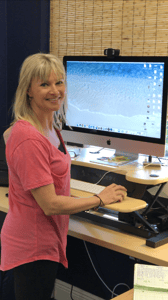 Test driving my new stand up desk
"You're going into work again? But it's Sunday. And weren't you there yesterday too?"
My son was grilling me hard, not because he wanted to hang out with me, mind you. He just wanted me to stick around long enough to cook him breakfast.
Yup. I was headed back to the office for the fourth weekend in a row.
I actually worked the Sunday after my 50K too. Now that I think about it, Crazy Amy owes me twenty bucks. When I told her on the way to our big race that I would have to work the next day, she said there was no way I could and bet me $20 that I wouldn't.
It's a busy time of the year with all guardianship reports due April 1st. Those reports on top of an already thriving practice makes for some long days and weeks.
Hey, I'm not complaining. I appreciate all of my clients and the opportunity to serve them with their Family Succession Planning.
But the time has come to hire another attorney to accommodate our growing clientele.
Don't worry, I have very high standards in this regard. The new attorney must be very personable, highly organized and efficient; traits that our clients have come to love and expect.
On Good Friday, when our office was closed for the holiday, I actually took a moment to post job listings on the University of Alabama and University of Florida Law School websites.
On another note, I'm test driving a sit to stand desktop. I figure if I can stand and work, that I'll burn more calories, right? I posted a photo of it on our blog.
If you haven't reviewed your Family Succession Plan in more than five years or have never taken the time to implement one in the first place, then now's a great time to schedule your no obligation Family Succession Strategy Session. I charge $197 for these two hour strategy sessions. You can book yours online here or by calling the office. 850-439-1191
I'll also send you a copy of my Florida estate planning book just for calling. Be sure to ask Olivia for your free copy.
Ok, time for me to bounce. Gotta get caught up so I can take this Saturday off. I'm running a double header with Crazy Amy on Saturday, the Navy Federal 5K at 8am followed by the Terrain Race (mud run) at 12:30. No one has ever accused us of not being ambitious!
Kristen "Looking Forward to a Day Off" Marks