"Wow, this is a record for us," my daughter and her roommate said as we were pulling into my daughter's driveway at 9pm last Friday night.
"It's a record for me too!," I exclaimed.
After Hurricane Sally threw a monkey wrench in our plans to visit Nags Head, North Carolina, Andrew and I decided to visit our children at their respective colleges for the weekend instead.
Andrew boarded a flight for Columbia, South Carolina, to visit our son who is a Sophomore at USC.
I hopped in the car for a road trip to Tuscaloosa, Alabama, to visit our daughter, Jill, who is a Senior this year at UA.
The "record" to which my daughter refers is the fact that she and her roommate were coming home for the evening by 9pm.
My "record" was actually staying out until 9pm!
A weekend away was just what my soul needed following COVID and Hurricane Sally. I hadn't been out of town since January.
I love road trips, even solo ones. I listened again to one of my favorite non-fiction audiobooks, "Mind Hacking Happiness" by Sean Webb. [Seriously, if you want to boost your happiness, you gotta read or listen to this book. Life changer!]
After eating every meal out (can someone say chips and hot pimento dip?), test-driving a few new cocktails at the bar during the Alabama football game, and neglecting my daily yoga and walking practice, I returned home Sunday evening with renewed incentive to get back into shape.
And what to my wondering eyes did appear in my carport upon my return?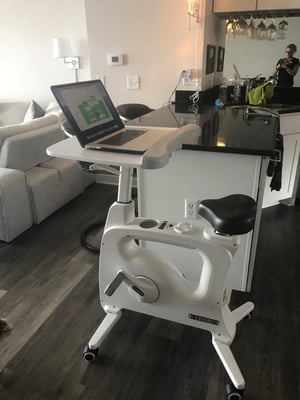 My stationary bike desk had arrived!
I figured now that I am working more from home following the Pensacola Bay Bridge closure, I might as well get some exercise at the same time.
It's no Pelaton and I don't work up a sweat but my legs do get a workout and I figured any movement, no matter how slow, is good movement for the body.
In a perfect world, I would eat right and exercise vigorously more than I have been. But alas, "YOLO" has been my post-COVID, empty-nesting motto. Hence, the bike desk.
Perfect to get back into shape? No.
Good enough addition to my daily routine? Yes, for now.
So too when planning your estate.
Planning your estate doesn't have to be perfect. Instead, any thoughtful succession plan that covers all of your assets and protects your family is a good plan.
"A good plan implemented today is better than a perfect plan implemented tomorrow." General George S. Patton (paraphrased)
The takeaway today is don't dilly dally.
Don't procrastinate on getting your affairs in order.
Don't put off spending time with your loved ones.
Tomorrow is not guaranteed.
YOLO and seize the day, my friend!
Kristen "Embracing Life and Making Progress" Marks
P.S. Ready to move forward with updating or creating a new estate plan to protect your loved ones? Call us to schedule a meeting today: 850-439-1191
P.P.S. Shameless plug for my daughter who is President of the Beat Auburn Beat Hunger fundraiser as UA this year. This is an annual Fall fundraising competition between Auburn and the University of Alabama to see which school can raise the most donations to the Alabama Food Bank before the Iron Bowl.
Want to help out? You can make your donation through Venmo: @ua_babh
Or online here: shorturl.at/qKN68