How disappointing, I thought to myself.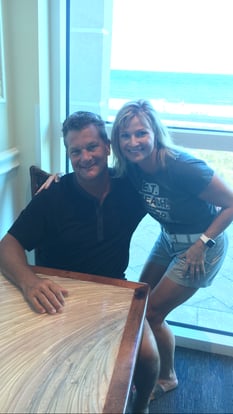 Celebrating our anniversary
Andrew and I were celebrating our anniversary last summer at a beach resort restaurant and I was treating myself to a glass of red wine before dinner.
The waiter brought it to me in a white wine glass which are shorter and thinner than a traditional red wine glass. And not just any white wine glass, but a cheap, thick-lipped white wine glass that you can buy at Dollar Tree.
I was extremely disappointed to be drinking a $15 glass of wine in a cheapo wine glass at an upscale restaurant. (I'll refrain on my commentary about why an upscale resort restaurant would have cheap wine glasses in the first place).
I debated briefly on saying anything. Mind you, I NEVER say anything about the food or service when we go out to restaurants because I know servers work hard for a living.
I knew my husband would be embarrassed but in my most pleasant voice and a sweet smile, I kindly asked our waiter to bring me a red wine glass. The response floored me.
"We're out." Huh? That's very weird. How can a restaurant be out of red wine glasses? Oh well.
We ordered our food. Then I looked around and two tables over, a woman was sipping her white wine in RED WINE GLASS.
Ok, so our server just doesn't know what the heck he's talking about. He must be new so I gave him the benefit of the doubt.
This time, when he returned with our food, I pointed to the woman's glass and said that I would like one of those glasses brought out to me. The server all but rolled his eyes but he did eventually capitulate and brought me a red wine glass once I had pointed it out to him.
Ok, I know I sound like a Royal P.I.T.A. with this story but darn it, I don't drink much wine and this was a special occasion and I wanted to enjoy the experience.
There's something very sensual about sipping a good red wine from a delicate, long-stemmed, bulbous crystal red wine glass. The experience is just not the same in a cheap white wine glass.
I pay very close attention to detail when crafting Family Succession Plans for my clients to ensure that to the extent possible, families avoid unnecessary time delays, unnecessary government interference, exorbitant legal fees, and family fights.
I also pay very close attention to the experience that our clients enjoy in our office. Which is why when we moved into our current office, we added a self-serve coffee bar, comfortable seating, and upbeat background music (not elevator make-you-fall-asleep music), all to ensure an inviting (rather than imposing) atmosphere.
These are just some of the ways we distinguish ourselves from most law firms and all online estate drafting options.
If you are a bit of an experience snob yourself, you will probably like working with us.
If you don't care and always choose the cheapest option available in the goods and services you use, then we probably won't be a good fit for each other.
Click here to schedule your Family Succession Strategy Session with us.
My family still doesn't get my obsession with a classy red wine glass. (Of course my daughter is in college so solo cups to her are just fine … for her soda of course.) But hey, to each his (or her) own, right?
Kristen "Red Wine Glass Snob" Marks