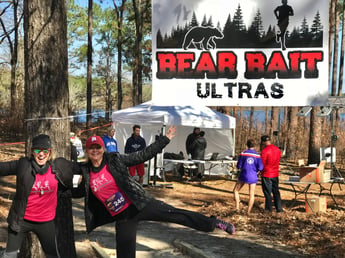 Crazy Amy & CraziER Kristen finish their 1st 25K
"Mother Trucker!," I hear my friend, "Crazy Amy" mutter behind me as we scaled the final hill just half a mile away from the finish line.
"I won't tell you what I'm thinking right now," I replied.
"I won't tell you what I'm thinking about YOU right now," she retorted.
We were running the Bear Bait Ultra this past Saturday at Bear Lake in Blackwater State Forest, though our race was not technically an ultra distance (defined as anything longer than a marathon distance). We instead opted for the 25K shorter distance as a tune up race to our upcoming 50K next month.
We had decided in advance to "turn up the heat" a bit during the last mile and since I happened to be in front of Crazy Amy on the single file trail, I set the pace for our race.
Guess we forgot about the final ascent towards the finish line which is what prompted the "Mother Trucker" expletive from Amy who HATES hills with a passion. (I, on the other hand, hate sprints and interval training.)
I was thinking that I was glad we didn't have to run four more laps of the course (the 25K was four laps of a four mile loop around Bear Lake; the 50K runners would traverse four additional laps).
Crazy Amy (remember she got her name because she was crazy enough to agree to my hair brained idea to enter and train for a 50K race) was cursing my name because I kept saying the finish was just around the next bend. I said this multiple times before it actually was.:)
You get to know someone really well training for a 50k because you spend so much time on the trail together.
Case in point, listen to this gem from Crazy Amy out of the blue: "I could pick you and Jessica out of an ass line-up anywhere, I spend so much time looking at it during our runs." Bahahaha.
Either Crazy Jessica (a 3rd crazy friend we recruited into our adventure) or I usually lead our trio on the single file trails inasmuch as Amy is self-proclaimed directionally challenged.
Just like in trail racing, in our Family Succession Planning, we may not always know what lies around the next bend but we forge ahead anyway.
And don't fool yourself, you DO have a Family Succession Plan (also known as an Estate Plan) whether you have proactively crafted one or not. The government will bless you with a Family Succession Plan if you do not care enough to create one for yourself. Scary thought, huh?
In a show of solidarity, Crazy Amy and I crossed the finish line at the same time in a respectable time of 3 hours and 31 minutes. Not too shabby for a couple of middle-aged women.
We will continue our forge ahead towards our, dare I say "first", 50K in a month.
Kristen "Mother Trucking" Marks
P.S. If you are a Florida resident and do not want to settle for the Family Succession Plan the government will give you by default, then schedule your Family Succession Planning Session with me instead using my online calendar.