Well, selling my bodily fluids is a more accurate description but I'm getting ahead of myself.
I told you in an earlier post that I sold my Mercedes and am now the proud driver and owner of a ten year old Toyota RAV-4. (Thanks, mom!) Setting aside my ego, the decision when I finally came to it was a no-brainer. The RAV-4 (which my mom calls "the Beast") is reliable, gets good gas mileage and is saving me about $1,000/month in eliminated car payments, reduced car insurance, maintenance and gas.
Apparently I'm a roll because I have been ruthlessly eliminating extraneous expenses and tracking where every dollar goes in our household (much to my husband's chagrin—hello Peg Leg's!).
With two kids in college and on the payroll, Andrew and I find ourselves essentially funding three households now (ours, our daughter's and our son's).
We don't begrudge the decision and I recognize that we are in the fortunate position to even do so. But, the added college expenses has put a significant crimp on our household cashflow. Hence, my meticulous review of every expense and every dollar.
Along with tightening our belts to plug the mindless evaporation of greenbacks from our lives, I remembered the flip side of improving one's finances is to increase the inflow of money.
So this was on my mind last weekend as I was driving down Barrancas Avenue Saturday morning and saw the billboard that was like a beacon calling my name.
"Need Cash? Earn up to $400 in a month donating plasma!"
What?!
First of all, what is plasma? Secondly, someone will actually pay me to donate it?
After a bit more research on what I might be getting myself into, I called around town and found three facilities that pay you when you donate your plasma.
I chose the place on Barrancas because it was not only paying the most for new donors but it had great hours (7am-7pm, 7 days a week) and it is close to my office.
When I told Andrew about my harebrained idea to make some extra cash (hey, this will pay for my Orange Theory membership and my hair budget, both of which I am NOT willing to give up at this time), he dryly asked me if my practice was doing that poorly that I had to donate my bodily fluids for cash.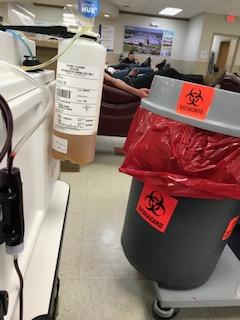 I assured him that my practice was doing just fine but that this seemed like a no-brainer side hustle if you will. Plus, it's kinda fun to find ways to bring in some extra moula, like a game to see how much I can make on the side.
Two donations later, I was $150 richer last week. Yup, $150 is not chump change and like I said, it's kinda fun to get paid while relaxing and reading a book.
I share this story to remind you that it's ok to think outside the box as you live and plan your life.
Amanda and I help our estate planning clients think outside the box everyday as we brainstorms ways to plan their legacy estate plans to protect their loved ones while also saving them time, money, and headaches.
Our planning philosophy is to keep our clients' estate plans as simple as possible while still accomplishing their planning priorities and making things easy for their family in the future.
And with the passage of the new Secure Act on January 1st (see Amanda's post here), thinking outside the box when it comes to passing along one's IRAs to loved ones becomes even more important.
Although I don't HAVE to keep donating my plasma, it does save lives and if someone is gonna pay me to do it, all the better. So I'll keep my twice weekly date on the books at the plasma donation center for the foreseeable future.
Kristen "Thinking Outside the Box" Marks
P.S. Shamless plug alert. If you decide to donate plasma to Telacris Plasma Donation on Barrancas Avenue, drop my name, would ya? I'm not above taking advantage of their New Buddy Referral program!