"I think I see life form ahead."
"Oh, good. I hope there's also a potty in my near future."
Just an inside peek at some of the dialog between Crazy Amy and me during a typical long-distance race.
Crazy Amy and I ran the Bryce Canyon 30K trail race a couple of weekends ago in Utah.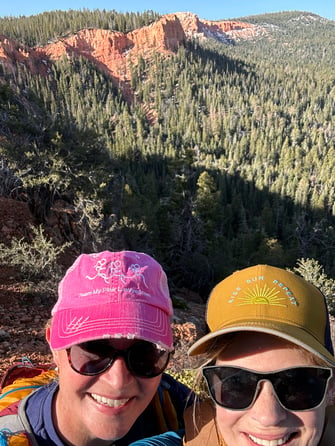 We were in the final five-mile stretch of our race and the runners had spread out enough by then such that we could go an hour without seeing another person. Plus, the aid stations were getting further apart. Hence, my need to visit the porta potty (or a tree if I got desperate).
I hadn't run a significant trail race since before Covid. I had lost my mojo to train every weekend and I had migrated to my Peloton for my daily workout.
Yet, I was still on an email list for Vacation Races which hosted the Antelope Canyon 55K trail race that Crazy Amy, Crazy Jessica, and I had run four years ago.
Last summer, I received notification of the Bryce Canyon race.
Hmm, I thought. I wonder what distances they are offering? I already knew I didn't have it in me to train for another 50K distance.
But a 30K? Doing a quick conversion, I concluded that 18.6 miles were entirely doable. Heck, I could WALK 18.6 miles if I had to!
Never one to turn down a good challenge, Crazy Amy became my partner in crime…yet again.
Bryce Canyon National Park, located in southern Utah, is a breathtaking wonderland of otherworldly landscapes and awe-inspiring vistas. Crazy Amy and I took a few moments to capture photos and take some selfies during the race.
Known for its iconic "hoodoos" (though we didn't see any on our racecourse), dramatic cliffs (yup, we saw plenty of those and avoided tumbling down any thankfully), and expansive canyons, this natural masterpiece also served as the backdrop for yet another exhilarating and challenging adventure for these crazy ladies!
The race itself was gorgeous. As predicted, we walked more than we ran. The mountain climbs were intense! But, we finished 2 ½ hours ahead of the cutoff time. The weather and scenery were beautiful and the company was great. I highly recommend Vacation Races for your next scenic destination trail race. And I also recommend that you add Bryce Canyon and Zion National Park to your bucket list of places to visit.
The Magic of Bryce Canyon.
Bryce Canyon National Park is a haven for outdoor enthusiasts, attracting hikers, photographers, and nature lovers from around the world. However, experiencing the park through the lens of a trail race takes the connection to a whole new level. As you lace up your trail running shoes and take your first steps onto the trail, you immediately feel a sense of excitement and anticipation for what lies ahead.
The Challenging Terrain.
The trails in Bryce Canyon present a unique set of challenges that will test even the most experienced trail runners. With STEEP ascents (did I mention steep?!), technical descents, and ever-changing terrain, this race demands both physical and mental resilience. The course takes you through a labyrinth of trails that wind through the park, offering a variety of surfaces, including rocky terrain, sandy paths, and forested sections. Each step is literally an adventure, as you navigate the twists and turns while soaking in the unparalleled beauty of the surroundings.
The Unforgettable Views.
One of the most remarkable aspects of running a trail race in Bryce Canyon is the opportunity to witness the park's stunning views. The sheer beauty and diversity of the landscape acts as a constant source of motivation, inspiring us to push forward and embrace the challenge. Plus, the 30K was a loop-style course so at some point, we had no choice but to forge onward because we were closer to the finish line by pushing forward rather than turning back!
The Spirit of Camaraderie.
Ultra trail races in Bryce Canyon attract a vibrant and supportive community of trail runners from all walks of life. As you run alongside fellow athletes who share your passion for nature and adventure, you experience a unique sense of camaraderie. Whether it is exchanging words of encouragement, sharing trail stories, or assisting each other down steep and slippery descents, the bond forged during the race adds an invaluable layer to the overall experience.
The Mental and Physical Triumphs.
Completing any trail race, regardless of the distance, in Bryce Canyon is not merely about crossing the finish line (though that is an amazing and relieving feeling!); it is also about testing both your physical and mental limits and pushing through barriers. The race demands resilience, endurance, and unwavering determination. It is a unique opportunity to delve deep into your own capabilities, to conquer the doubts and fears that may arise along the way, and to emerge on the other side with a profound sense of accomplishment.
Destination races like Bryce Canyon are my favorite because I get to combine a fun vacation with my girlfriend, Crazy Amy, or anyone else crazy enough to join me, with a challenging adventure, plus have a motivating reason and deadline to train leading up to the race.
I have not yet registered for my next race, though Crazy Amy is trying to convince me to pace her during her upcoming 100 MILE trail race in January. Now, THAT girl is CRAZY!
Kristen "Trail Running Enthusiast Especially When It Involves Travel" Marks
P.S. We have lots of cool, fun, educational videos on our website to answer your Florida estate planning questions. Check them out and let me know what you think! Or, shoot me a question that you want me to answer via an upcoming video. https://www.mypinklawyer.com/video