"Holy cow. You've got to be kidding me," I thought to myself as I found myself trying to navigate the tiny aisles in Bed, Bath and Beyond on Saturday morning in Tuscaloosa. The check out line snaked around the store and I would soon be standing in it.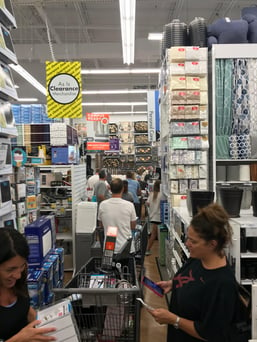 So the typical move in day goes for the parent of a college student.
Jill returned a couple weeks ago to college for pre-Rush planning but her apartment lease did not begin until this past Friday. Hence, Andrew's and my quick trip to Tuscaloosa this weekend.
Since Jill was still in the middle of Rush, the moving and unpacking duties befell her poor parents. (I think we briefly saw her twice this weekend.)
The actual move-in on Friday was a bit of a sh*# show with four hundred other students and their families all attempting to move into a building with only three elevators. But patience prevailed and we finally got Jill moved in.
The next day was the unpacking and organizational day. Hence, I sent Andrew off to watch golf somewhere and grab a beer while I shopped and unpacked. The last thing I needed was Andrew's half-hearted attempts to "help," though I did enlist his brawn hanging Jill's tv on her wall.
As parents (especially this generation), we often overindulge our children and want to make their lives as comfortable and stress-free as possible. I'll be the first to admit that sometimes I overdo it and forget that my daughter is now leading "her life" and needs to figure out things on her own without my unsolicited advice and opinions.
Although we often tend to do "too much" to help our children as they grow and mature, one thing that most parents do NOT do is craft and deploy a Family Succession Plan that will save their children headaches, time, and money in the transition of their assets and money to them down the road.
There are numerous time and money-saving strategies that will make the transition process seamless when the time comes. But, you won't know what strategies are available to you if you do not seek competent legal counsel. That's where our Family Succession Strategy Sessions come in. For only $197, you can meet with one of our Florida attorneys for up to two hours to discuss your unique planning needs and custom craft a unique succession plan just for your family.
You can book your Family Succession Strategy Session online here.
Although overall I did a pretty darn good job getting Jill unpacked and organized in her new digs, I did blow it a bit in packing up her closet. She clearly told me which sections of her closet clothes she wanted me to bring up to her. Even though I knew which sections I was supposed to pack, I still managed to screw it up at the last minute. I remember thinking to myself, "Huh. Wonder why Jill wants me to bring her restaurant work shirts up to her at school."
So off to the Post Office I shall go this morning, box of clothes and credit card in hand. Overnight shipments ain't cheap!
Kristen "Selling My Kidney to Pay Postage" Marks