Andrew and I snuck away last week with friends to celebrate my husband's and friend's birthdays in Sedona and Flagstaff, Arizona.
Sedona is known for its natural beauty with red rock formations and vibrant sunsets that attract visitors from all over the world. As someone who spends most of her workdays in an office, I was eager to immerse myself in this breathtaking landscape and recharge my batteries.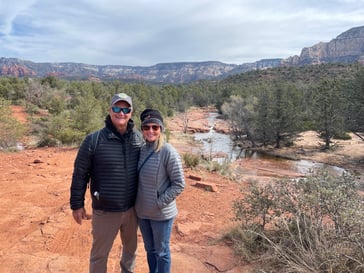 But even in this idyllic setting, I couldn't completely disconnect from my work. As a Florida estate planning lawyer, I'm always thinking about how to help my clients protect their assets and provide for their loved ones. And Sedona presented a unique opportunity to reflect on some of the core principles of estate planning.
For starters, the desert environment, so foreign to me, is a stark reminder of the importance of contingency planning. In a place where water and other resources can be scarce, you learn to appreciate the value of foresight and preparation. Plus, disasters, such as flash floods, can happen suddenly with little lead time to get ready. Advanced preparation is crucial.
Even with the best of intentions to get one's affairs in order, some clients, unfortunately, find themselves "under the gun" to plan their affairs quickly following an unexpected medical diagnosis or accident.
This is why I always preach planning early and planning often.
"A good plan implemented today is better than a perfect plan implemented tomorrow." General Patton
Another lesson I took away from Sedona is the importance of flexibility. The natural world is constantly changing, just as our lives and circumstances are constantly changing. A solid estate plan needs to be adaptable to your changing needs and circumstances. And, of course, your estate plan will likely need to be updated over time as your financial circumstances and family dynamics change.
Of course, my visit to Sedona wasn't all work and no play. I took plenty of time for self-reflection, meditation, hiking, visiting the local shops, and soaking up the amazing natural beauty of the area. And in so doing, I reminded myself about the importance of maintaining balance in my life.
Yes, estate planning is crucial, but so is taking time to appreciate the beauty of the world around us and connect with the people we care about. And I can't think of a more beautiful setting for this important reminder than Sedona, Arizona.
Kristen "Smitten by Sedona" Marks
P.S. Give us a buzz to schedule your estate planning review consultation with one of our Florida-licensed attorneys. Florida estate planning: it's all we do at My Pink Lawyer®. 850-439-1191