"This could be a Seinfeld episode," the seller husband quipped.
We had been sitting in the attorney's conference room for over three hours by that time waiting to close the sale of the condo we were purchasing in Zihuatanejo, Mexico.
Seven LONG months had already passed since we made our offer for this cash deal.
Nothing moves fast in Mexico. "Manana" is the country's informal motto which, contrary to popular belief, rarely ever means tomorrow.
Mind you, I am not complaining about the laid-back cultural mindset. It is a welcome change of pace from life in the States which is a big part of the appeal for Andrew and me.
Relaxing one's expectations and being cheerfully patient was the order of the day.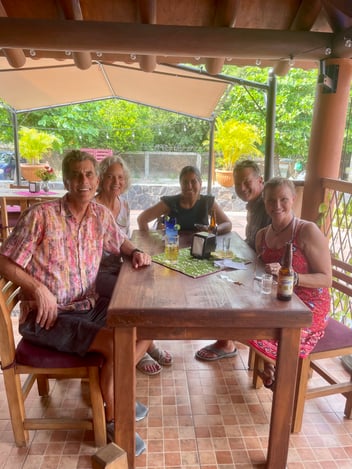 The sellers, a lovely couple from North Carolina who had been visiting the area for decades, flew in for the closing.
Both the sellers and us had queried our realtor and the attorney's office many times leading up to the closing to ensure that we had each provided all of the necessary documentation and paid all necessary fees.
Having read multiple Mexican closing stories online by "foreigners" (like us), I knew there was a strong possibility of hiccups. We had already dodged a bullet the day before when we obtained our official Mexican temporary residency in only two hours. I was expecting that process to take most of the day.
But, I digress…
First, Andrew's name was misspelled throughout the closing documents. That took an hour to fix.
Then, we had to provide written proof (for the third time) that we had actually paid the sellers even though they were sitting right there.
The sellers, in turn, had to provide written proof that they had actually deposited our cashier's check. Why does the Mexican government care if the sellers had cashed our check yet? Who knows.
Then the sellers had to show proof of their entry Visa into the country which is usually documented on an official visa form that is completed upon arrival into the country.
However, unbeknownst to the realtor and the attorney's office apparently, Mexico had recently implemented a pilot program for issuing paperless Visas to tourists. The sellers did not have the paper FMM form to show the attorney. Fortunately, I had read about this pilot program online and was able to pull up an article on my phone to show our realtor.
That snafu set us back another hour.
Then, more money discussions ensued.
Apparently, both the sellers and we owed more fees and taxes than we had previously paid. Closing could not be finalized until everything was paid in full and the sellers were leaving the following day. A wire transfer would take several days to deposit crossing borders and a personal check would not cut it.
So, putting our heads together, the sellers and us pooled our cash and off to the bank we went to convert more U.S. dollars into Mexican pesos.
The sellers then wrote us a personal check for the cash we had briefly lent them. I was feeling generous and gave them a pass on the "vig."
Another two hours later and a stack of cash sitting on the conference room table, and we finally signed more papers.
And just like that, five hours later, we closed on our long-awaited Mexican villa.
I am hopeful that my time in Mexico will teach me the art of "tranquilo."
Our closing yesterday has me thankful that we have great systems in our office for "closing" clients' estate plans efficiently with flat fees so there are never any surprise bills for clients.
Give us a shout or visit our website to learn more about how we work with our clients to build effective estate plans. 850-439-1191
Both Joy Reily and I are accepting new Florida (and also Lousiana for Joy) clients at this time.
Yes, this week in Mexico has been filled with many "Seinfeld" moments of which we will spare you in OUR office.
Kristen "Patience and Tranquility South of the Border" Marks