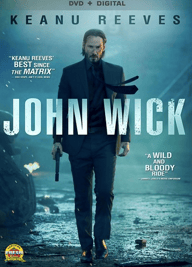 I admit that watching a television series or movie in the evening with Andrew is a guilty pleasure of mine.

Yes, it is a mindless endeavor but it's also a great way to unwind after a long day. 


And, let's face it. There are worse vices to have.




Although we usually pick a tv show on Amazon or Netflix, occasionally we will rally to watch an entire movie and (getting a little crazy here!) stay up past 9pm!




Action movies are our usual go-to because I am not into Indy films and Andrew will have nothing to do with romantic comedies.




We stumbled upon the movie, "John Wick" not too long ago. Beyond all of the blood and guts and gratuitous violence (the internet reports that the main character kills between 76-84 people in the movie but who's counting) there was actually some pretty good dialog.




After John Wick gets shot, he calls for the hotel doctor to be patched up.

John Wick : So what sort of movement am I looking at?

Continental Doctor : Well, if you're looking to heal, then keep it marginal. However, if you still have... business to attend to, take two of these beforehand. Your stitches'll tear and you'll bleed, but you'll have full function. Do you need anything for the pain?

John Wick : [Looks at his glass of Bourbon] No, I've got that covered.




So too it goes with our Family Succession Planning.




I like to take a practical approach in advising clients.




Your circumstances and family dynamics may not be 
ideal but you do the best you can with what you got.




Make practical choices about the people you name in your documents recognizing that they may not be the perfect people for the job.




Make practical choices about the estate planning tools you choose to implement your plan (trusts, wills, deeds, beneficiaries, etc.) recognizing that there will not likely be a perfect option.


 There are usually multiple ways to structure your plan to carry out your planning goals.

Since I do not have a crystal ball (oh, the money I could make if I did!), I cannot give you the perfect plan. But, I can give you really good practical options to consider.




The key is knowing what your legal options are, the pros and cons of each option, and the costs associated with each option.




In the John Wick scene above, the "ideal" option would be for John Wick to rest and heal. Since that was not the practical option, however, the doctor told him to take two magic pills and go do what he needs to do. Yes, there will be tearing of stitches and bleeding along the way, but the job will get done.



If you're a Florida resident still wondering what your Family Succession Planning options are, let's chat at your Family Succession Strategy Session (which we can do by web conference or phone call if you live outside of the Greater Pensacola area).

It just may be the best $197 investment you've made in a long time.




Kristen "Keeping It Practical" Marks



Still not convinced? Read what past clients of ours have to say about working with us.