OMG, I thought (well, not in those exact words--I think it was more like, WTH!), as I blindly groped for the car door—searching for anything to grip with my eyes squeezed shut—as the flexible straw snaked its way up my nasal cavity and then back around into what felt like my throat.
"It's ok, honey. You can grip my hand."
I gladly accepted.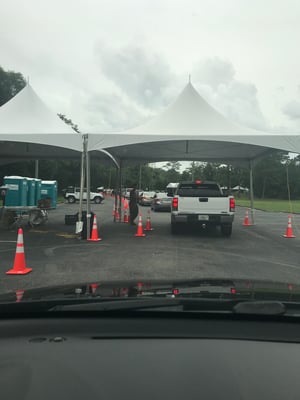 I was at the drive-through COVID test site at the University of West Florida a couple of weeks ago. Not because I had any coronavirus symptoms but in an abundance of caution.
The sister of a friend whom I had been in brief contact with had tested positive. I had no contact with the sister and I wasn't really concerned but, hey, UWF was offering free testing 7 days a week with no pre-screenings required. Better safe than sorry.
I had heard stories about how uncomfortable and even painful the nasal swab of the COVID test is but, even with what I believe is my high threshold for pain, this test took the cake.
I can understand why they have you turn off your vehicle before the test. When that swab is snaking up your nose for an interminable amount of time (and did I mention that once it's as far up your nasal cavity as it can go, that they swirl it around for 10 freaking seconds?!), you are thinking about nothing except getting that Daggone alien wire back out of your nose. It's a wonder I didn't bat it away or punch the poor nurse who was administering the test.
I suppose the COVID nasal swabbing was better than a sharp stick in the eye but not by much.
I had a client last week exclaim after our initial estate planning consultation that "This wasn't bad at all! It was actually kind of fun. My sister told me that I would hate talking about this stuff."
I agree with her sister that it can be quite painful talking to some attorneys. I've talked to some of them myself over the past 25 years of my legal career.
But with experience, I've learned that having sometimes difficult conversations (after all, who wants to think about what will happen when they die?) doesn't have to be unpleasant.
It's a legal myth that serious subjects need to be accompanied by an intimidating demeanor.
In fact, my clients and I often have a lot of fun during our meetings even though we are discussing a serious subject. Life and death you might say. No pun intended.
In fact, it's not unusual to hear laughter emanating from my office.
No. My client meetings in no way resemble a sharp stick in the eye nor the nasal swab COVID test. Legal advice doesn't have to be boring or intimidating.
The results of my COVID test were as I expected. Negative. But we still have our safety protocols in place at our office which include:
Limited office visits (if possible, we are still promoting virtual appointments);
Face masks for everyone in the office, clients and staff alike;
Disinfecting the office, especially high touch areas, in between each client visit;
Hand sanitizer, face masks, and gloves readily available for everyone visiting the office; and
We have a COVID disinfecting fumigation safety plan in place if there is ever a confirmed case in our office by a staff member or a client visiting us.
Although the spike in positive COVID cases in Florida right now is no laughing matter, we will continue to provide you with as positive an experience working with us as possible, even if we do look like bank robbers in the process!
Kristen "No Sharp Sticks in the Eye" Marks
Founder of My Pink Lawyer®
P.S. Complete the form below if you'd like to schedule a free 10 minute Q&A call with me!