"I don't want you to be inspired! I want you to go home now," my mom half-jokingly told me Sunday morning after breakfast.
I had spent Saturday night at her house having a "girls' night in," eating dinner and watching the first couple of episodes of the final season of "The Marvelous Mrs. Maisel."
"You'd be so proud of me. Come look at the dress shoes that I purged from my closet," she said.
Yup, there were about twenty pairs of high heels all housed in their own individual clear plastic shoe boxes stacked up in the guest room where I sleep. I suspected this pile was just a drop in the bucket.
As an aspiring minimalist, I am amazed that I am the product of my mom and dad, both of whom are "collectors."
My mom is an "over-preparer" in every aspect of her life. If one is good, then two must be even better!
If an item is a part of a set, like a dinnerware pattern, then one must own the ENTIRE collection.
If my mom likes one purse, she may buy it in every single color to go with any outfit she might possibly wear. I, on the other hand, am lazy and only swap out my purses at most twice a year.
What about my mom's clothes closets? Yes, that is plural, as in multiple closets for her clothes.
Sensing an opening, I casually remarked, "Let's tackle this closet while we're at it," opening the guest closet door. My eyes widened looking at the racks of clothes in the GUEST CLOSET. Hmm. At least they were sorted by color.
My mom was already backpedaling. She informed me that her weight fluctuates and THAT is the reason she has so many black dresses. I counted no less than 30 black dresses in every style and size imaginable. Dressy, casual, sleeveless, short-sleeved, long, short, V-neck, scoop neck, flared, straight, etc.
Now keep in mind that my mom is retired and does not attend many social events (nor do I for that matter but I also don't have thirty black dresses in my closet). My kids' graduations and an occasional fancy dinner out is about it. And before retirement, my mom wore uniforms to work.
I pulled each black dress out of the closet one by one.
"See, that one fit me when I was in my "extra fluffy" stage."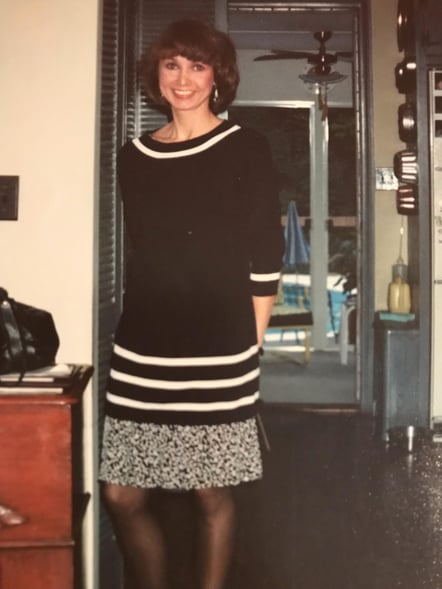 "That skirt I wore to my high school reunion." Yes, Mom, your high school reunion THIRTY years ago.
"Mom, you were rail thin at that time. Not to be mean but really, when are you ever gonna fit into that skirt again? I've never even fit into that skirt!"
"But I looked really good in it at that reunion."
"I know, Mom, but you have the photographs and memories of you wearing that skirt. You don't need to hold onto it just for the memory. Besides, someone else will be thrilled to have the opportunity to wear it. Out it goes."
"This material is too heavy for Florida." "OK," my mom reluctantly agreed.
"Wait a minute. Didn't I just see this same exact dress?"
"Maybe it was in a different size," my mom replied, ever hopeful.
Nope. I flipped back through her dresses again.
Yup, SAME EXACT BLACK DRESS IN THE SAME EXACT SIZE.
To my mom's credit, we both busted out laughing. Tears were rolling down my mom's face as she doubled over trying to catch her breath.
What is even more incredible is that my mom moved here from Virginia three years ago and she had already purged about half of her closet.
The next morning, we peeked into HER closet. There were sneakers galore.
"Mom. Why do you need all of these sneakers? You don't even work out!"
I knew when to cut my losses, however, because I could sense she was feeling overwhelmed.
Not everyone is like me aspiring to have as few items as possible but many of my Gen X peers do not want their parents' "stuff." We have our own "stuff" to deal with.
I get it. Decluttering your possessions that you have accumulated over a lifetime and probably spent thousands of dollars acquiring is a daunting task for many like my mother. Not only are you thinking about your "sunk costs"—I spent good money on that!—but it is also easy to get caught up in the sentimentality of certain items, like my mom's twenty-year high school reunion outfit.
But the bottom line is that a house packed to the gills with stuff that needs to be cleaned out creates unnecessary stress and emotional burdens for your loved ones when they are grieving your loss. So, here are some quick tips on how to declutter your belongings so that you can avoid leaving a mess behind for your kids when you die.
Start now.
The best time to start decluttering is now. The advice you've heard in the finance world applies here. The best time to have decluttered was thirty years ago. The second best time to declutter is right now.
Start with the low-hanging fruit.
As I helped my mom do with her black dresses this weekend, we started with the low-hanging fruit. For the dresses, we did an initial purge of dresses that she would clearly never fit into again (either too small or too big), were too long (she purged her high heels), were duplicates of other dresses, or were no longer in style or age appropriate.
Organize your belongings to see what you actually have.
Last month I purged all of my family's winter coats. Yes, we live in Florida but somehow in all of our travels, our family of four had accumulated an overabundance of winter wear.
My strategy? I pulled out of the closets every single coat we had—winter coats, dress coats, rain jackets, fleece jackets, vests, mens, womens, etc.—and sorted them into piles on the floor by category. Then I decided how many of each item in every category to keep.
Yes, I donated some great items that were expensive when purchased but I also "found" some unexpected items that I had forgotten about and was thrilled to be able to wear again.
Communicate your wishes.
For whatever you do decide to keep (and maybe that is every single darn thing in your home), provide some guidance to your loved ones on what to do with it when you die.
Have collectibles? Document the contact information of other collectors that may be interested in purchasing your collection or the best websites to sell such items. This can help alleviate any confusion and reduce overwhelm for your loved ones when the time comes to clean out your house.
Most people do not think about decluttering as a part of their estate planning but I beg to differ. If "estate planning" is getting your affairs in order then purging unnecessary, unused, duplicate, or extraneous items clearly fall into the "estate planning" category.
I am very proud of my mom for the baby steps she is taking now to get her affairs in order for me, an only child who will "inherit" the entire burden of cleaning out her house in what I hope will be in the very far future.
Have you checked out the video library on our website recently? Our Florida estate planning videos contain easy-to-digest information on choosing healthcare proxies, establishing trusts, designating beneficiaries, explaining Florida ladybird deeds, choosing the best guardians to raise your minor children, and much more. The easiest way to access them is to visit our homepage My Pink Lawyer.com [no spaces], scroll to the very bottom, and click on the Videos tab in the footer.
Kristen "She Who Finds Joy in Letting Stuff Go" Marks
P.S. In case you think I am throwing my mother under the bus, you're probably right but my mom did pre-approve this message and, to her credit, she has a great sense of humor, can laugh at herself (and me!), and is a good sport about my blog posts.