I've long had a cyclical relationship with exercise.
I didn't start exercising regularly until college when I met a friend one summer in Augusta, Georgia when we were both working for the same Federal judge who was a fitness instructor and civilian bodybuilder.
I started attending Meri's step aerobics classes (remember those?!) and working out with her at the ungodly hour of 5 am when the local gym opened.
Meri taught me how to use free weights, do deadlifts and bench presses safely (no sissy circuit training machines for us, baby, which was the workout de jour for ladies in the late 80's) and without feeling intimated by the testosterone-laden male bodybuilders in the room.
Yup, we were often the only women in the free weight room. Think lots of grunting, sweat flying, and surreptitious posing in the floor-to-ceiling mirrors. Not by us, mind you.
Meri encouraged me as I returned to college that Fall to obtain my fitness teaching certification so I could teach aerobics classes back at Dartmouth.
I did and one semester I actually taught 10 classes weekly at both the college and the local gym. I parlayed the gig into a paying position as part of my work-study program.
I remember a funny moment when I ran across a male professor on campus who attended one of my aerobics classes. I said hi to him and he stopped and did a double-take for it to register how he knew me.
"Oh, I didn't recognize you with your clothes on," he exclaimed before turning beet red and apologizing for how his comment sounded.
Remember the rage of wearing thong-style high-cut leotards over shiny tights with leg warmers and high-top Reebok aerobics sneakers to work out in? Yeah, well that was me back in the day. [Google Jane Fonda workout videos if you are too young to know what I'm talking about.]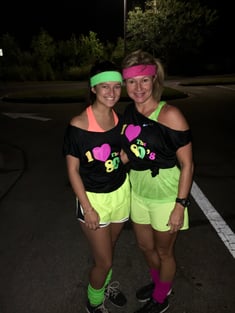 80s throwback day at Boot Camp several years ago. The closest photo you'll find of me in a thong leotard. Not!
I actually continued to teach group fitness classes off and on throughout law school and even as a brand-new attorney when we moved to the Pensacola area.
Folks would marvel and tell me that "you have so much discipline teaching all of those exercise classes." Tongue in cheek, my reply was always, "Actually, I'm not very disciplined so teaching the classes provides me the accountability I need to work out at all!"
I think many of us begin an exercise routine to either lose weight or change how our body looks. I certainly did in the beginning.
Interestingly, my weight has never changed much when I exercise. Although my body certainly looks different in middle age after birthing two children than it did in my early 20's, my weight has pretty much stayed steady over the past three decades.
I've come to realize that I don't exercise to lose weight. I exercise because it makes me feel better about myself. I feel in control when I exercise. I'm healthier when I exercise. And darn it, when I find the right fitness routine (which has evolved over the decades and no doubt, will continue to do so), I actually really enjoy working out.
Exercise & healthy living are not one and done things. They are a lifestyle.

So too with your estate planning.
Getting your estate planning affairs in order with your attorney is not a one-and-done bucket list item. Your life evolves and your estate plan should evolve with it.
So too, staying healthy and fit is a lifelong process. Find a fitness routine that you enjoy doing regularly (hey, even a walk around the block listening to your favorite podcast or a book on tape counts!), and staying healthy won't feel like work.
As the proverbial "they" say, "use or lose it."
Or as I like to say, "move it or lose it."
So remember, just as leg warmers, shiny tights, and thong leotards are out (thank goodness!) your twenty-year-old estate plan is likely out of date too.
Kristen "No, I Won't Show You Photos of my Thong Leotard Days!" Marks
P.S. Is it time for a refresh of your existing estate plan? Been a while since you last read your Will? I offer estate planning review consultations for Florida residents ($97 for past clients and $197 for new clients) which we can do either virtually or in-person. You can give my assistant, Adriena, a buzz to coordinate our schedules: 850-439-1191