"Oh my God, are you ok?," Crazy Amy spun around and asked me.
I had just face planted on the trails, tripping over a root during our half marathon run yesterday at the UWF bike trails. I couldn't believe it was actually my first fall.
Usually I can catch myself or maybe fall down on one knee. But this one was a doozy. Complete face plant with face in the dirt, arms outstretched in front of me, legs spread eagle behind me.
Spitting dirt out of my mouth (I would later have the pleasure of drinking dirt again when I took a sip from the straw of my hydration pack), I replied, "Yes, I'm fine. I can't believe I didn't bruise or twist anything on my landing."
Amy could relate. Not ten minutes before, she too dropped like a sack of potatoes in front of me.
"Two down, one to go," we thought since Jessica had yet been spared a stumble.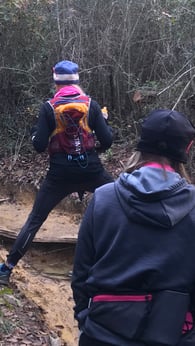 The three crazy amigas, Crazy Amy, Crazy Jessica, and CraziER Kristen, are back at it on the trails as we prepare for our fast approaching ultra 50K trail races.
Amy and I are running the Bear Bait 50K ultra next month on Bear Lake in Munson, Florida, and the three of us are racing the Antelope Canyon 55K in Arizona in March.
Training never always goes according to plan. There are sometimes spiders, mud, unexpected river crossings, extreme heat, extreme cold, wind and rain, but you plan for the unexpected the best you can.
Can't say I was prepared for that faceplant, however.
Planning for the unexpected and other contingencies are also important in your Family Succession Planning.
What if your intended beneficiary does not survive you?


What if you become disabled and unable to manage your own affairs any longer?


What if you have another baby or grandbaby in the future?


What if your named guardian or trustee or executor is unable to serve in that capacity?
Always have a Plan B is my planning motto.
Amy decided it would be a good idea for us to carry Neosporin and a small first aid kit on the trails and she's right.
I was lucky that I didn't injure myself yesterday but I am not going to tempt fate twice.
No, I'll still be hitting the trails with my crazy girlfriends but this time I will be a little more prepared for the unexpected.
Kristen "Queen of the Face Plant" Marks
P.S. Click here to plan for the unexpected in your life.