Wow, that's a sight you don't see everyday, I thought to myself, as three men passed me at last weekend's 5K race wearing women's bikinis. They were not transgender either!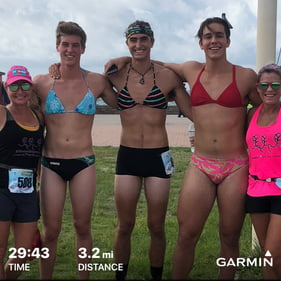 Guess I should have had a bit of a clue since the race was called the Boardshorts and Bikinis 5K, though most runners would assume that the women would be the ones wearing the bikinis.
Not me, however. Two kids and pushing fifty have not been kind to my midriff which I have resigned myself to think of as my fat burning energy storage for long distance races.
Other than the brief comic relief during the race, the race itself was pretty miserable to run as it was pushing 85 degrees with 90% humidity with a strong headwind during the first half of the out and back race course.
But it could have been worse. I could have been unprepared and untrained for the race. Fortunately, I have been running on the beach in headwinds and high heat and humidity all summer as part of my training.
Something I've learned from running consistently and, specifically, training for events, is that with a looming deadline, I must run whether I feel like it or not.
With an upcoming race, I do not have the luxury of waiting for perfect weather conditions to run. Nor do I have the luxury of waiting until I "feel" like running which rarely ever happens unless I'm wearing a new outfit (sad, I know).
In training for the Blackwater 50K this past February, we ran in the extreme cold.
We ran in the snow. (Remember the snow we had in early December?!)
We ran in the heat.
We ran in the rain.
We ran sore, aching, and in pain.
We even ran once hung over. (Well, me at least, following an evening of revelry at Capt. Fun's for the Alabama – Vanderbilt football game. Never going there again! Ha ha).
The point is that we ran because we knew we needed to in preparation for our 50K. Because the pain of being unprepared on race day far outweighed the temporary discomfort of a training run today.
Similarly, our estate planning clients plan their Family Succession Plans with our office not because they particularly WANT to, but because the pain for your loved ones of being unprepared far outweighs the temporary discomfort of thinking about such issues and the time and money it takes to prepare.

Our estate planning clients never FEEL like planning but they do it anyway to save their families time, money, and headaches in the future.
You can prepare your family's estate plan too by scheduling a Family Succession Strategy Session with our office here.
The thought of free cheap beer and food got me through the race. Whatever it takes to get you across the finish line, right?
Kristen "Wouldn't Be Caught Dead Running in a Bikini" Marks