"Jesus, Mary and Joseph!," I heard my husband exclaim from the dressing room.
"What is it?," I asked.
"I just saw the price tag on one of these pairs of jeans you are having me try on."
One of the men customers outside of the dressing room started to laugh. He too was in the store with his wife doing a wee bit of shopping.
Andrew and I were in Vail a couple weekends ago celebrating our 26th wedding anniversary. Our daughter, Jill, who now lives outside of Denver, joined us for the weekend (I mean she's not gonna turn down free meals, right?).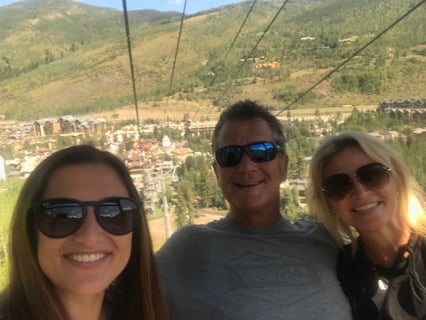 One afternoon, after a few beers, Jill and I coerced my husband, who HATES to shop and is not exactly fashion forward, that his wardrobe could use a bit of an upgrade. So we dragged him into a clothing boutique on the main square.
Jill and I had to act fast because I knew from experience that we probably would only hold his attention for about 15 minutes max.
I settled Andrew into the dressing room and Jill and I raced around with the sales clerk grabbing clothes in his size to hand him behind the dressing curtain.
He was a good sport but I was right. He lasted maybe 15 minutes.
When he was done, Jill whisked him away next door to the microbrewery to calm his shaky nerves while I stayed behind to pay for his purchases.
The good news is that my husband now has five new pairs of stylish jeans and other casual pants in his possession.
The bad news is that he still needs to visit our seamstress to have them hemmed.
Kind of like the two-step approach I take with my estate planning clients.
I assist them with the design of their estate plan and draft all necessary documents to go along therewith. Inevitably, I will also provide my clients with written "homework" instructions on updating the titling and beneficiaries of their financial accounts to complete the estate planning process.
I emphasize that the follow-up "homework" is just as important as the signing of any documents I've prepared to ensure that their estate plan works seamlessly when the time is needed.
So now my husband has a new wardrobe but he still needs to have everything fitted (darn you, short legs!). To make it easier for him, I think I'll just put the new clothes on the passenger seat of his truck so he has to look at them every time he gets in his car. Kind of like my follow-up "homework" reminders to my clients.
I hope Andrew's new clothes don't go out of style before he gets them altered because it will probably be another five years before I can drag him back into another store!
Kristen "Celebrating 26 Years of Wedding Bliss (Laughs?)" Marks
P.S. Don't forget to visit our website to check out our extensive array of free estate planning resources, including a free book teaching you how to avoid ten common estate planning mistakes.