"I'm getting up early to hunt Thanksgiving morning, Mom," my son informed me last Tuesday night.
Uh, ok. Good thing I wasn't planning to cook a big Thanksgiving feast anyway having just finished our "big" move into our condo.
Jill was spending Thanksgiving with her boyfriend's family in Destin so it was just going to be the three of us anyway.
Well, dang if I'm doing any cooking this year if it's just going to be Andrew and me, I thought.
"Yes, are you open Thanksgiving Day by any any chance?," I asked the Grand Marlin. "Great, we'll see you tomorrow."
So Andrew and I began what could become the Grand Marlin tradition for Thanksgiving this year.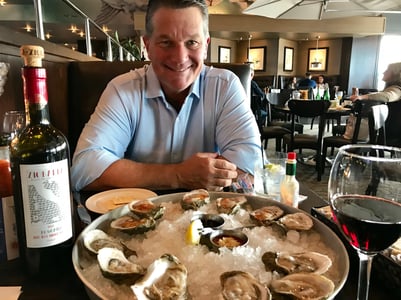 The restaurant was actually steady with business and the food was great. They offered a traditional Thanksgiving dinner but we instead opted for fried oysters, fish, and a warm spinach salad.
And the best part? No dirty dishes or pots and pans to clean up. No last minute treks to the grocery store for missing key ingredients. And no stress that all of the food will come out of the oven hot at the same time.
I had made a fresh apple pie which when we returned home, along with a fresh bottle of wine, topped off our Thanksgiving afternoon perfectly along with a good book and football on tv.
I know some of you reading this will think it's heresy to not (a) celebrate Thanksgiving with friends or family, (b) insist that our children celebrate the holiday with us, or (b) eat a traditional Thanksgiving meal with turkey and all the fixings.
But for others of us, however, society-imposed traditions are overrated and I refuse to feel guilty by choosing my own path. I recently went pescatarian (vegan with fish) anyway so turkey was out of the question.
So too with designing Family Succession Plans for my clients.
One size estate plans do not fit all.

Your family is different than mine.

The plan that works for your children probably will not work well for my children.

And that's OK. We all have different planning priorities and your personalized succession plan should reflect it.
I am not saying that Andrew and I will celebrate Thanksgiving every year at the Grand Marlin (or any restaurant for that matter) but it could not have worked out any better for us this year. After all, our kids are growing up and will soon often have their own plans for the holidays.
I have decided that rather than fight the inevitable changing times, I am going to embrace this new stage of our empty nester lives.
Who knows? Maybe next year, WE will be the ones who won't be around for Thanksgiving traveling Europe or whatnot and our kids will need to make other plans.
Kristen "Forging New Thanksgiving Traditions" Marks
P.S. It's not too late to mark off "get a Will" from your 2018 resolution list. If you are a Florida resident, call the office to schedule your Family Succession Planning Session today: 850-439-1191 or schedule it online here.