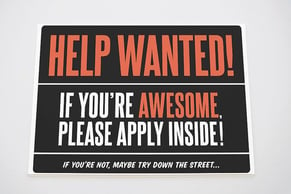 My son started his first real job last weekend at a popular bar/restaurant on the beach. As fate would have it, the week before Drew turned in his job application, the guy he replaced had quit without notice. After turning in his job application, the manager asked if Drew could start the next day and so it began.
Drew is working his tail off —7 straight hours (10 hours on Mardi Gras weekend!) of washing dishes, emptying trash cans, restocking ice … repeat on an endless loop. I asked him who he works for and he replied, "Everyone. I do whatever anyone asks me to do." That's the spirit!
My daughter has been working at another beach restaurant for over a year now. We tease my husband that Jill works more than he does (just kidding!). She works 5 shifts weekly in addition to keeping up her grades, social life, and Senior year activities.
I'm so proud of both of my teenage kids for working and taking pride in a job well done, even if their jobs do not entail the most glamorous activities.
I've always held the belief that there is no job that is beneath anyone, no matter their education, economic status, or prior experience. If nothing else, some jobs may help you realize what you DON'T want to spend the rest of your life doing for a living.
I remember working at a dine in/take out Mexican joint on a Fall break from college. The manager who hired me told me to take home a menu to study and memorize, including the codes I'd be using ring up food purchases and write orders down on tickets for the kitchen. She asked me and so, of course, that's what I did.
My first day on the job, I'm taking orders using the shorthand I had memorized and my manager was amazed. When I asked why, she said it was because I was the first person she had hired who had actually memorized the menu!
Although neither my husband nor myself worked during the school year when we were teenagers, I think my kids are learning valuable life lessons from their work experience, such as:
How to balance school, homework, extracurricular activities, sports and their job
How to manage and budget their money
How to file their income tax return (my daughter is getting a refund this year!)
How to work well with others
How to follow a schedule and be dependable
How to accept responsibility
How to make sacrifices when you'd rather be with friends rather than working
How to become more independent and self-sufficient
Another bonus to our kids working is that my husband and I suddenly find ourselves on the weekends with free time on our hands. We actually had a much needed date night last weekend while (get this!) both of our children were at their jobs!! Yippee!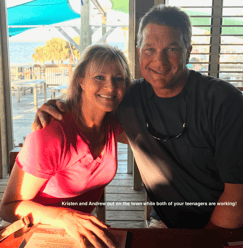 I'm hoping my kids' work experience will teach them to become responsible adults and productive citizens in society.
After all, their parents won't be around forever to catch them when they fall. The more life experience my kiddos can learn from now, the better off they will be to hopefully make good life and financial choices when we, their parents, aren't around to pick up their slack.
Besides teaching my kids, I'm also on a personal mission to teach women and families in our community to take responsibility for their Family Succession Planning. A great place to start is to download my free book about how to save your family from financial ruin and family feuds after the death of a loved one.
Click here to download your copy now.
What about you? Did you allow your teenage kids to work during the school year? Was it a good thing or bad? Please share any words of wisdom with the rest of us by leaving your comment below.