Everyone needs a mentor.
Our office spent Blue Angels this past Saturday on the Entertainer fishing charter boat with my first mentor, attorney James L. Chase and his office.
Jim hired me straight out of law school.
Jim has a thriving small firm practice handling all civil litigation matters and more particularly, family law, tax, elderly guardianship, and business litigation matters.
I am not lying when I tell you that Jim was, and continues to be, a terrific mentor for me.
When I first started working for him, Jim had me shadow him wherever he went and whatever he was doing in his practice.
I sat in on client conferences, attended depositions and hearings, researched and wrote trial briefs and pleadings for his cases.
An interesting aside. My very first day on the job, I attended a deposition in a divorce case with Jim. When we walked into the conference room, the attorney for the opposing party (a woman as it were) was already in the room. Jim said, "I'd like to introduce you to my new associate." Opposing counsel replied without missing a beat, "Where is he?" After the split second initial confusion wore off, I was pissed. Her reply was obviously meant as a backhanded slight and the fact that it came from a fellow woman made me particularly frosty. And believe me, I have never forgotten that experience, and how small it made me feel as an insecure newbie attorney, nor who the attorney was who dizzed me. And yes, she is still in practice today. And no, I won't mention her name here.
Anyone who has been to college understands that what you learn in class is just theory even if you were a terrific student. Seeing how that knowledge is practically applied in real life is a whole other ball game and something that you cannot learn from a book.
That is why I am so thankful that Jim took the time to not only let me tag along with him but also that he actually took the time to teach me as we went along. He taught me not only the substantive law but also practical matters such as how to run a law practice, how to work effectively with clients, and how to attempt to find balance between working hard and enjoying life with your friends and family.
I worked with Jim for seven years before I took a career detour when my kids were little to build another business.
When I returned to the law ten years ago, Jim graciously offered me a position again with his firm. I politely declined since by then, I had the desire and frankly, the confidence, to launch my own law practice.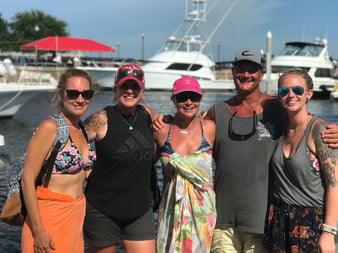 Jim and his wife, Tonya, have continued to graciously include Andrew and me in many of their firm functions such as their holiday parties and more recently, their Blue Angels Saturdays on the Entertainer.
I have no doubt that I would not have the thriving practice that I do today without Jim's influence and encouragement.
I am working to pass it on so to speak in my mentorship of our new attorney, Amanda Elliott. If you have an upcoming appointment with me, Amanda will likely be sitting in with us. With Amanda's support, My Pink Lawyer will be able to assist even more clients with their Florida family succession planning and their Florida probate, trust and guardianship issues.
No matter what line of work you are in or how long you have been working in that field, I encourage you to seek out a mentor (or mentors). I was lucky that my first boss just happened to be a great mentor. Even if you not that fortunate, there are helpful folks who are where you want to be who are willing to generously lend a helping hand, if you seek them out.
Kristen "Thankful For My Mentor" Marks
P.S. Click the button below to download my free book on Florida family succession planning and learn how to avoid ten of the most common estate planning mistakes that will cost your family thousands of dollars.