Disclaimer: Guys, you'll probably want to tune out right now and ignore this blog post. Because unless you're a clothes junkie, you'll probably be bored to tears with this post.
If you're a client of mine, it's no big secret that I, along with the rest of my staff, are organizational junkies.
We pride ourselves on providing the most organized, efficient family succession planning experience possible as our clients will attest.
My organizational aspirations bleed into my personal life as well.
So I was super excited about a new discovery I found online to organize my new "capsule" work wardrobe.
Before I spill the beans on my discovery, however, let me explain a "capsule wardrobe" for the uninitiated.
A capsule wardrobe is a collection of select clothing items (tops, bottoms, shoes, outerwear, etc.) of a few coordinating colors that can be mixed and matched in multiple variations to give you a wide variety of outfits for various occasions without breaking the bank or cluttering up your closet. (Thank you, Crazy Amy, for introducing me to the concept.)
Think Garanimals for adults. (Look it up, youngins', if you don't know what I'm talking about.)
Between my recent weight loss through periodic fasting which I wrote about here and our downsizing move into a condo with limited closet space, I was "forced" to update my work wardrobe (much to my office assistant, Olivia's delight since she inherited my "old" work wardrobe) and I decided to start fresh with building a capsule wardrobe.
Two pairs each of navy, grey and black slacks.
Two blazers each in navy, grey, and black (one longer, one short).
A few coordinating blouses, belts and shoes (flats and heels) in similar colors.
A couple pairs of jeans and sweaters and voila! Kristen's capsule wardrobe is complete.
[Thank you, Black Friday, and consignment stores!]
The novelty of mixing and matching my outfits every morning is super fun. However, like most of us, I know that I will tend to slump into a rut before too long and wear the same combinations of clothes every week when, given the math, there should be hundreds of combinations to play with.
Enter my latest discovery I found poking around Pinterest this weekend—the Stylebook app for your iPhone or iPad.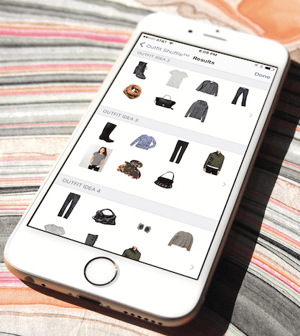 The Stylebook app is a virtual closet for your real-life wardrobe allowing you to curate your wardrobe so you "can look effortlessly chic" everyday.
No, this is a not paid ad for Stylebook (the app costs $3.99 in the app store). But like any self-respecting woman, I tell everyone about new products, services, and ideas that I am excited about.
Stylebook is my latest discovery that I am wetting my pants about.
I spent my lazy Sunday uploading most of my clothing items into the app. I can now 'virtually' dress myself each morning and even plan my outfits for the week or month.
And, I now have a written catalog of all of my clothing items on my phone with sizes, brands, and colors. Should I be out shopping, I can instantly refer to the online catalog of clothes I already own so I do not purchase a duplicate.
Wow, do I love practicality and efficiency.
We strive to provide the same experience for our clients with their estate planning.
If you want a trust or otherwise desire to "control your assets from the grave," we discuss whether in real-life it is practical to do so.
For example, do the value of your assets even warrant the additional expense of a testamentary trust to hold assets for your loved ones?
Just as there are a multitude of outfits I can put together with my new wardrobe, there are a myriad of ways to design your family succession plan that is not only practical and efficient but also meets all of your planning goals. As I like to say, there is always more than one way to "skin a cat."
So, if you are looking to get more organized with your wardrobe, check out the Stylebook app.
If you are looking to get organized with your estate planning affairs, check us out at My Pink Lawyer.® You'll be glad you did.
Kristen "Capsule Wardrobe Convert" Marks
P.S. You can call our office to schedule your Family Succession Planning Strategy Session. 850-439-1191