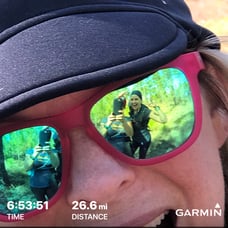 Goofing around on the trails.
Hmm, I thought to myself.
I was at Everman's Grocery the other day and passed by the energy bar section.
I was taking mental inventory of the running snacks I had at home to see if I needed to restock. After all, 7+ hours on the trails takes a lot of energy and we carry it all ourselves on our backs.
Then I remembered that we were only running 12 miles on Saturday.
"Only" 12 miles.
My, how my perspective has changed over the last few months.
A few months ago, I was working up to a half marathon distance.
Last weekend I completed my first marathon distance as a training run for our upcoming 50K.
Now it's blessed taper time for the next several weeks where we throttle back on the mileage to let our bodies recover before we shock it again with a whopping 31 miles on the trails.
I often hear a similar sentiment from friends and family about the need (or lack thereof) to plan their estates.
"I'm too young to worry about that now."
"I'm healthy. Nothing is going to happen to me anytime soon."
"I'll worry about that when I retire."
Sure, I hear other excuses too but the resounding theme among us "younger" middle-aged folk is that we are too young to get our Family Succession Planning in order.
Unfortunately, that perspective changes rather quickly when an accident occurs or an unexpected illness rears its ugly head.
Then, planning one's affairs to protect our loved ones and our assets cannot happen soon enough.
I receive weekly calls from concerned (and sometimes, frantic) family members whose loved ones are hospitalized with critical illnesses or injuries.
Sometimes it's just too late for me to help them.
You see, we all have a coveted Window of Opportunity to Plan Our Affairs. And when that window shuts, it often shuts forever with no concern for one's age or heretofore health.
My advice?
Plan early and plan often (translation: keep your plan current with your changing circumstances).
I'd be happy to get you started, or review your existing plan, at a Family Succession Strategy Session for Florida residents which you can book here. They are $197 for private 2 hour strategy sessions.
http://mypinklawyer.youcanbook.me
Alas, Evermans lost a bit of revenue from me this week since I am amply stocked for our one pitstop on Saturday (we usually break to eat every five miles or so).
That is, unless my running buddy in charge of our training schedule, Crazy Amy, throws a curveball at me and increases our mileage as she's been known to do. She's so bossy sometimes. Ha!
Kristen "Changing Her Perspective" Marks