"Whoa, what the heck is this?!," I thought to myself about six weeks ago on a Friday afternoon at the office.
Out of the blue, my entire body began aching and my throat felt like it was on fire. And I felt exhausted all of a sudden--like I needed to curl up under my desk and take a nap.
Ironically, a few minutes later, my son texted me and asked where he could have a COVID test done in town. He was feeling run down and his body and throat were sore.
Although Andrew and Jill both felt fine at this point, we all decided to get tested.
I finally made it home mid-afternoon and promptly fell asleep for a three hour nap.
Thank goodness it's Friday, I thought to myself as a I drifted off to sleep. I have all weekend to kick this thing. Or so I thought.
All weekend my body ached, my throat was sore, and I was severely fatigued. I took more three hour naps on Saturday and Sunday and didn't leave the house.
Fortunately, that Monday morning I had some phone calls scheduled but no in person appointments so I decided to work from home. I took another long nap that afternoon.
I clung to the hope each evening that I would feel better the next morning. Little did I realize at the time that such optimism was a pipe dream for a while.
I finally told my assistant on Tuesday night to reschedule the rest of my appointments for that week. I still didn't have the results of my COVID test back yet but regardless, I was sick and didn't want to expose my clients or staff.
I'm glad I did make the decision to take the rest of the week off because by Wednesday, five days later and on top of my other symptoms, fever and severe nausea also kicked in.
Oh, did I tell you that Andrew's symptoms started that Tuesday as well?
Having still not yet heard back from our walk-in tests the previous Friday, everyone in my family instead took a free at-home COVID test through Pixel Labcorp (google "free at home COVID test") and overnight mailed our samples back into the lab.
Long story short, our entire family of four texted positive for COVID-19.
My daughter, Jill, was completely asymptomatic.
My son, Drew, had moderate symptoms for a few days.
Andrew and I were a different story. COVID knocked us out for a solid 2+ weeks with severe symptoms.
We both slept 15-18 hours/daily. We suffered from fever, nausea, body aches, and sore throats. But for me, the severe exhaustion was the worst symptom. It was a Herculean effort to use the restroom or take a shower.
At least neither of us also experienced the so-called traditional COVID symptoms of severe chest pressure and dry cough. I think that would have mentally pushed me over the edge!
I spent two weeks alternating between bed and binge watching "Carribbean Life."
Thank goodness the kids were still home and they brought us food each day. [So weird the cravings we had for carry -out food that we would never have eaten otherwise.]
Andrew and I were the sickest we have ever been. I wouldn't wish the virus on anyone.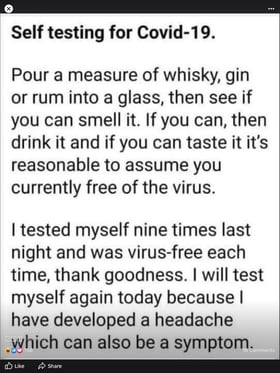 And what's really vexing is that since March, our family mutually agreed to "circle the wagons" and each of us severely reduced our circle of exposure. The kids each had a couple of close friends that they would hang out with and they avoided large groups. We stopped eating out and rarely even ordered carry-out. We rarely went into a store and we always wore a mask when we did.
Andrew and I closed the office the second week we were sick once we received our positive test results so our legal assistant and her family would have time to get tested and so we could have the office deep cleaned and fumigated.
Thankfully, everyone else in our office tested negative. To me, this is a testament to the effectiveness of everyone wearing face masks around one another in a public or office setting.
My PSA announcement for the day is this: COVID is not a joke. It's for real. And wearing a mask over your nose and mouth protects OTHERS if you are sick and don't know it.
Remember, my daughter never exhibited any symptoms.
And, our family actually didn't officially know we were positive until we received our at-home test kit results within 3 days of taking them, which was one week after I first started showing symptoms. If none of us had been wearing a mask during that time, who knows how many people we could've infected?
By the way, it took 14 days before getting a call from the health department with our test results from the first test we took at a walk-in site in Pensacola. Well, I should say that it took 14 days for the rest of my family to get a call. I never got a call at all.
Now that I've recovered and feel 100% (except for some lingering taste bud issues), I'm trying to look on the bright side of having already had COVID-19:
My family and I presumably are immune from getting COVID again for at least three months according to the CDC. My fingers are crossed that it's much longer than that and, if we do catch it again, that our symptoms will be less severe next time.


Since we do have the antibodies right now, Andrew and I are starting to go out to dinner again. Yes, we still wear face masks until we are seated at our table. It's nice to finally get out of the house again after five months!


Now having COVID antibodies, Andrew and I will each be donating plasma in an effort to help others fight off the virus. As a bonus, the plasma donation center will pay us $100 per donation and we can donate twice weekly. Hello, vacation fund!


Having been sick for so long, I began to seriously question if I would ever feel normal again. Having watched every single episode of "Caribbean Life" during my two weeks at home, I decided during my fever induced stupor that when we felt better, we would begin travelling more frequently again (around COVID restrictions of course). Life is way too short to forego the activities that make you happy.


Even more so than before, my priorities have narrowed even more to my friends and family, planning our next adventures, and generally enjoying daily life. I will be saying "no" to more demands on my time. I will be taking more time for myself and to travel.
Andrew and I were both lucky that, as sick as we both were, neither of us had to be hospitalized or worse. We have a colleague who was a pallbearer in the funerals of two of his local friends, both 50 years old, who died two weeks ago from COVID. We know another 50 year old who was hospitalized on a ventilator for two months.
I implore you if you don't already, or are sometimes lax about it, please, for those around you if not for yourself, wear a face mask when around other people. And social distance as much as possible. And avoid large crowds. Wash your hands frequently.
Unless you never leave your house and have stockpiled your own food for the end times, you may unknowingly become exposed to the virus. And as my family of four demonstrates, the virus affects everyone differently. You just never know how YOUR body will be affected.
I'm optimistic that if we all do our part to keep each other safe by wearing face masks especially and don't allow yourself to be near anyone who is not wearing a mask, we can wait out an effective vaccine for this insidious virus.
Kristen "I've Had COVID and I'm Still Not Taking Any Chances" Marks
P.S. Want to schedule time with me? You can do so here. Or email my assistant: info@mypinklawyer. Or call the office: 850-439-1191. I can't wait to connect with you!