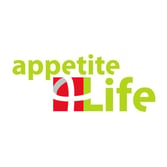 It's crazy to think that people still go hungry in our modern America. Florida, for instance, produces enough food to feed 60 percent of the nation, but struggles to feed those who can't feed themselves. Marcus Ditty grew up in poverty and says, if he hadn't been for the kindness of strangers, he wouldn't have known where his next meal was coming from.
"Thanks to the kindness of people running programs like this one, I never had to worry that I'd go hungry," he says.
However, not everyone is as lucky. That's why he works with Appetite 4 Life, a nonprofit organization that focuses on providing meals for people who need it — specifically, the terminally ill and children. The organization has five main focuses:
Meals for the terminally ill, run like a meals-on-wheels operation
A summer nutrition program for children
Food pantries, where the terminally ill can get non-perishable goods
A catering service to generate additional revenue
HIV testing, where people can get tested for the virus in less than 20 minutes
Thanks to donations and volunteers, Appetite 4 Life provides over 1,600 meals a day to those in need. For the summer nutrition program, they partner with local churches and community organizations to feed children who don't have the assurance of a daily lunch when school is out.
The catering service features a classically trained chef and staff, who volunteer their services for a wide range of events — from picnics and company meetings to weddings and black-tie affairs. All the proceeds go to feeding more children and terminally ill individuals.
Marcus says he's passionate about the project because it helps people move forward and focus on what really matters. "When you're hungry, it's hard to focus on anything else," he says.

The best ways to support Appetite 4 Life are to hire and refer their catering service and volunteer your time. "We live and die by our amazing volunteer workforce," he says. You can also learn more about the organization and donate at www.Appetite4Life.org.