"Let me scrub your bottom!," the headline read on the flyer my guy friend/business partner drafted for our boat cleaning business in high school. The flyer then went on to have a sketch of a girl in a bikini, presumably of me.
Jeff and I were sailing buddies in high school and when we turned 16, we each got scuba certified so we could dive and clean the slime off of the hulls of the sailing yachts we raced each summer weekend on the Chesapeake Bay in Maryland.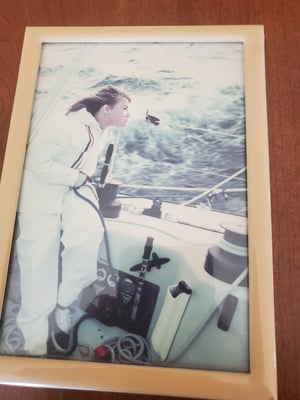 Our business partnership fizzled out when (a) I noticed that I was the one doing most of the work, and (b) school started back up and we weren't sailing every weekend.
My foray into the workforce continued, however.
I was a sailing instructor the following two summers on the Chesapeake Bay for our local yacht club.
For the month between the end of sailing school and my return to Dartmouth College the end of September, I worked the cash register at Tippy's Tacos, a local semi-fast food taco joint, earning minimum wage of $3.80/hour.
Although being a cash register attendant wasn't my dream job, I needed short-term employment and some cash. The owner who hired me told me that I was the only person she ever hired who actually memorized the menu and the short-hand codes to jot down the orders before my first day on the job. But hey, she told me to do it so I did!
I remember being a little embarrassed when one of my former high school classmates came in for lunch and was shocked to see me at the register. I graduated from high school with him a couple of years earlier near the top of my class and was bound for an Ivy League school for college.
It was humbling that he thought I had flunked out of school to see me working at Tippy's, but I didn't care what others thought about me. He wasn't living my life nor knew anything about it.
I also learned an important life lesson that no job is beneath me. I would scrub toilets if needed to make some money. You do what you have to do.
I received work study financial aid throughout college with various jobs each quarter. Hey, Dartmouth wasn't cheap!
I worked at the front desk from 5am – 8am before class checking college id's for folks entering the gym.
I worked various office jobs around campus.
I was a research assistant for one of my philosophy professors my Senior year.
I became certified in aerobics and one semester taught 10 exercise classes/week both in the student gym and off-campus at the local gym.
My aerobics stint was back in the days of skimpy thong leotards, leg warmers, and high-top sneakers, an outfit you wouldn't catch me dead in today. A college professor was in my 5am class. I once saw him on campus in street clothes and said hi to him. He did a double-take and blurted, "Oh, I didn't recognize you in clothes!"
I also was a Mary Kay sales director when my kids were young. I even drove a Pink Cadillac for two years!
And, like most young folks, I had my stints waitressing and working retail which I believe everyone should have to do at least sometime during their lives to appreciate how hard our servers and retail personnel work. Please, put your clothes away instead of leaving them in the dressing rooms!
I'm sure that I am forgetting many other jobs I've held over the last four decades but the one that brings me the greatest pride is launching My Pink Lawyer® to assist Florida families in getting their affairs in order to ensure the future stress-free transition of assets, money and property to loved ones.
We have built a great system working with our Florida clients to ensure that their estate planning desires are implemented in an orderly and timely fashion.
Since I am only one person, we've put together a great team of professionals to further assist you.
In fact, we have another attorney joining us again next month. I won't spoil the surprise now but stay tuned for her official launch!
Oh, and in case you were wondering, I no longer scrub bottoms!
Kristen "Retired…from Bottom Scrubbing That Is" Marks
P.S. In addition to calling our office, we also offer convenient scheduling of appointments with our attorneys using our online calendar platform here.