My head whiplashed backwards. Stunned, I stumbled a couple of steps backwards. I had no idea what had just happened.
My mind replayed the movie reel.
I had ducked my head to dip under a curtain draped to the side to enter the yoga room when BAM, my forehead connected with an unforgiving forcefield.
I stopped and regrouped. Within a split second I realized that there was indeed a glass door past the drapery.
Feeling foolish and slightly embarrassed, I laughed my faux pas off. My daughter and sister-in-law also got a good chuckle out of it after realizing that I was ok.
Or, as my daughter quipped, maybe it knocked some sense into me.
I am in Grayton Beach this week for our annual Marks Family beach week. Andrew's parents, siblings, their families, and our family all get together each year renting a beach house in various locations. There is a total of eight grandchildren ranging in age from 2 to 20. Jill, the oldest, is the only girl in the bunch.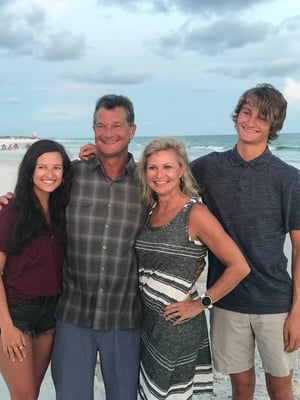 Four families living together for a week is challenging at times. Everyone has different schedules, likes to eat different meals, and have different organizational skills and routines.
But overall, beach week is always amazing and fun memories are made each year.
I feel fortunate to be a part of family that makes it a priority to reconnect each year from far and wide.
Family is important to me and probably you too. Which is why planning our affairs for our loved ones is also a priority for many of us.
We make fun memories with our loved ones now and the last thing I want to leave them with is a mess for them to have to clean up when I'm gone—such as a bunch of "stuff" that they don't want, disorganized financial records, and lack of a written "roadmap" that documents exactly what I want to happen with my money, property, and assets when I'm gone.
Plus, that written "roadmap" is great leverage to use against your kids, especially when they make fun of you (Jill!). Just kidding.
I would NEVER do that, Jill. [wink, wink]
Kristen "Knocking Some Sense Into Myself" Marks
P.S. Click here to schedule your Estate & Legacy Planning Strategy Meeting with My Pink Lawyer®.