"So if you don't speak good English…", my husband began.
"You mean if you don't speak English well?," I interrupted him.
Andrew paused, then chuckled. "Yes, that too."
As parents, we are sticklers for speaking proper English and it drives me crazy to misuse the words "good" and "well."
[You use "good" as an adjective to describe a person, place or thing. You use "well" as an adverb to describe an action. A person "speaks" well. He is a good "person."]
Not that the distinction will help us in Eastern Europe over the holidays when we plan to visit our son who is currently studying abroad in Latvia this semester. I'm not sure how much English will be spoken there. It's probably time to hone my charades skills.
We were not planning to visit Drew this semester but then on a recent conference call involving our daughter in Denver, he mentioned that he'd like to stay over Christmas to sightsee since he's over there anyway. Since Jill has two weeks off from work over the holidays, she piped up that she'd be all in.
Of course she would since we'll be footing the bill! Ha ha
Alas, Andrew and I are suckers for travel, especially if it involves our kids. I said it last year when we visited Ecuador that "this might be the last year that we all travel together as a family!"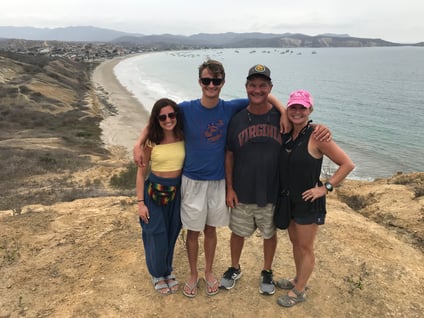 Marks family visits Ecuador in December 2020
Again, this holiday, "this might be the last year that we all travel together as a family!"
Plus, Eastern Europe is not a place that Andrew and I would ever typically plan to travel so this is a perfect excuse to visit a part of the world we would probably not visit otherwise.
When we first started mulling over the idea of traveling over the holidays, the options were overwhelming. So many countries to visit, so little time type of thing.
Fortunately, Drew who is "boots on the ground" so to speak, did some leg work and helped narrow down some viable travel options that are neither cost nor Covid prohibitive. It definitely helps that we've all been vaccinated (as everyone else in our office by the way).
We are leaning towards flying into Budapest in Hungary and spending some time there and also taking the train (oh, to have such great public transportation here on the Gulf Coast!) to Vienna, Austria.
Narrowing down our travel plans to some viable options is similar to how we work with our estate planning clients who often initially meet with us without a clue of how to get started in planning their affairs. The possibilities, and even potential complications when you have a blended family, for example, can initially seem overwhelming.

Our estate planning professionals become our clients' trusty "travel agents" if you will, asking lots of questions to help them focus on their priorities and then making "travel" suggestions to start honing in on a well-crafted plan to protect themselves and provide for their loved ones.
We haven't booked our flights overseas yet but the wheels are in motion. With the low temperatures expected to be in the low thirties, I expect I'll be asking to borrow winter clothes from my friends who ski.
So much for teasing Drew, who is now wearing a winter coat himself in Latvia, with the warm temperatures here in Florida!
Kristen "Wanderlust" Marks