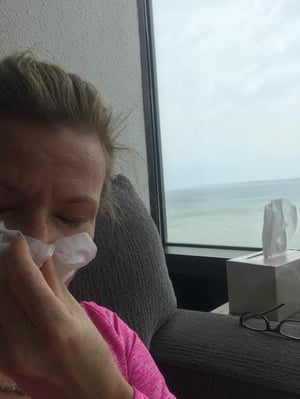 I awoke late Saturday morning with a pounding throb in my head radiating from the top of my nose into my forehead.
I fumbled for my watch. 9am?! What the heck? I'm a regular 5-6am riser even without an alarm clock.
Thank goodness it was Saturday because my annual sinus infection was back and it wasn't gonna be pretty by the feel of it.
So much for the productive weekend I had planned for myself as I spent most of the weekend laid out on the couch in my pajamas.
Here are three things I learned during my lethargic sinus infection-induced couch potato lounge-around this weekend:
Make hay while the sun shines.
If you've read any of my previous posts, you know that I am an energetic activity addict. I feel guilty doing nothing and proactively plan my days to be as productive as possible, including my weekends.
My weekends always stay fairly full with self-imposed household chores and personal activities, such as grocery restocking, meal planning, cooking, cleaning, laundry, exercising, bill paying, etc. I expected this weekend to be no different.
Except then, I woke up feeling like my head had been run over by a dump truck. Even the mere thought of taking a shower was physically draining.
Fortunately, since I do stay fairly on top of keeping the house in order, losing a couple of days was not that big of a deal. Spaghetti it is tonight, kids!
When you stay on top of important chores in your life, whether it's at home or at the office, it doesn't become a crisis when you unexpectedly need to take some time off.
In other words, don't procrastinate and stay on top of the sh…, uh, stuff that needs to get done so you don't fall too far behind if you unexpectedly become unable to do it. After all, life happens.
If you're feeling healthy now, there's never been a better time to get your estate planning affairs in order because there may very well come a time when you don't feel well enough to plan or you become physically or mentally unable to plan your affairs.
Do the important things first each day.
I am freshest and have the most energy early in my day even when I am not sick. But with any type of illness, the day can quickly degrade into a lethargic stupor.
I committed to a 30 day run/walk streak with Crazy Amy and another girlfriend, Lynne, a few weeks ago. We have to run or walk any distance daily and let the others know so we can hold each other accountable.
Although getting dressed was the last thing I felt like doing Saturday morning, I dragged my sorry butt outside and walked one mile. I figured if the rest of my day turned to poop (which it did), at least I didn't ruin my run/walk streak and that seemed like a mighty fine win to me for the day.
Might I be so bold as to suggest that YOUR MOST IMPORTANT THING today might be scheduling a new estate planning consultation with us so we can help you get your affairs in order?
It really is as SIMPLE TO GET STARTED as scheduling the appointment which we can hold virtually from the comfort of your home.
It doesn't have to be perfect; just get started and do it anyway.
My one mile walk on Saturday was not what I had in mind for my run streak this weekend. But who cares? I just put one foot in the front of the other and did it anyway. I kept the streak alive!
Lots of us suffer from "perfectionitis." If it can't be perfect, then it's not worth doing. Or if I don't know precisely what the path looks like, I won't allow myself to even get started.
Don't fall into this trap.
You know what needs doing and no, it won't be perfect, but it needs doing nonetheless.
ESTATE PLANNING, whether you're old or young, whether you have kids or not, whether you're a millionaire or living paycheck to paycheck, is IMPORTANT and EVERYONE NEEDS AN EFFECTIVE PLAN for themselves and their loved ones.
YOU DESERVE in these uncertain times CONFIDENCE and PEACE OF MIND for the future.
Your estate plan doesn't have to be perfect, but you do need a plan.
We make is SIMPLE for you to obtain a PROFESSIONALLY CRAFTED ESTATE PLAN.
I'm feeling much better this morning and continue to meet with clients over the web and by telephone to assist them in getting their estate planning affairs in order.
I'd love to help you too. You can check my calendar for availability here or call the office: 850-439-1191
Stay safe and take care of your health. And from my mom, drink lots of fluids and get plenty of rest.
Kristen "Keeping the Daily Streak Alive" Marks