"Honey, we must have this bag clerk take our photo to text to Jill. She will die!"
There's not much that brings me greater joy in this world than embarrassing my kids.
My mom embarrassed me plenty growing up. I still have flashbacks of her doing a song and dance shuffle through the living room in her bathrobe in front on my friends during a sleepover wearing a purple face mask to deep clean her pores! I'm passing on the tradition with my kids which they just LOVE I'm sure.
Andrew and I were out running errands a couple weekends ago and I convinced him to take a detour to Publix for us to knock out the weekly grocery shop together.
This was a HUGE ask because we both hate to grocery shop and as you know from my emails, I outsource the chore to a grocery delivery service most weekends which Andrew loves giving me a hard time about. Of course it didn't stop him from replying to my request with a "What?! They can't deliver the groceries this week?!"
And because we both hate to grocery shop, we NEVER shop together. After all, why should both of us be miserable with the tedious chore?
And because Andrew and I have an unspoken agreement to not grocery shop together, we both poke fun at the couples we do see together at the grocery store, especially the ones holding hands as they walk up and down the aisles. The sight just makes us giggle.
So, we tee'd up for the perfect pose and asked the sweet high school bag clerk to take our photo. Imagine her surprise when she saw the pose we struck.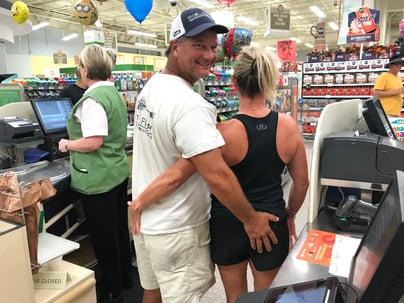 And off the photo went to Jill. Her reply was priceless.
"OMG! Where the heck are you guys? And who took this photo?"
Nothing like a little blackmail photo waiting in the wings for her Facebook page when she really irritates me by not staying in touch. Hee hee
Kristen "Embarrassed by How Much I Love to Embarrass My Kids" Marks
P.S. Obviously I wouldn't make the effort to embarrass my kids if I didn't love them to pieces. Another way I show that love is keeping my estate plan current for them to save them time, money and hassles for the inevitable time when I am no longer here to embarrass them in person anymore.
Although I won't help you embarrass YOUR kids, I can help you get your estate plan in order for them. Call us at 850-439-1191 to schedule your money-saving strategy session today.