I grinded through my inbox like a woman on a mission.
I checked my email inbox again. Yup, three more emails came in to respond to.
I took a quick potty break and dang! More papers in my inbox.
I will get outta here with a 0 inbox if it kills me, I thought.
Three more rounds of back and forth: inbox, email, inbox, email, and finally…nary a piece of paper nor an email notification in sight.
"I'm gone, ladies, before either of you put any more work in my box!," I told Nicole and Olivia as I grabbed my purse and headed out the door last Thursday afternoon.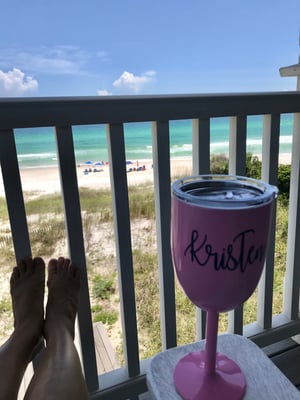 I was starting a much needed family vacation. I've been working my arse off the last six months and, of course, I will pay for the time away from the office when I return but I will worry about that on Sunday when I play catch up again.
This week it's all about family and relaxation.
My goal for the week? To be as bored as possible!
Many of you are taking vacations this summer too which prompts frantic calls to my office from folks wanting to update their Wills before their trips.
Or parents who realize that they have never officially named guardians for their young children. [Spoiler: just telling someone you want them to raise your kids is legally insufficient.]
Or parents of kids heading off to college who realize that they now have zero say in their children's healthcare should an accident occur. HIPPA laws prevent doctors and hospitals from talking to parents of adult aged children (yes, that's 18 in Florida!) if they are hospitalized, essentially shutting parents out of any information regarding their children's medical situation.
A current, written and well-crafted Family Succession Plan addresses all of these concerns and more.
If your Family Succession Plan is out of date or (horror!) you have never created one, it is not too late to get one.
Call the office if you want to get on the schedule for your Family Succession Plan. 850-439-1191.
I will be back in the office next week with a surprise announcement to boot.
In the meantime, I'll be thinking of you.
Well, maybe not actually; but in spirit, yes.
I hope to see or talk to you soon!
Kristen "Aspiring Boredom" Marks