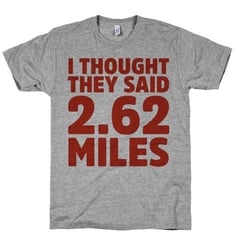 "I think I hear the cheerleaders cheering us to the finish!," I yelled over my shoulder.
"I've heard that one before," Crazy Amy muttered.
Poor Crazy Jessica, our third friend we bamboozled into our 50K training, a generation younger than us who has been very patient (and I'm sure, very amused) listening to the incessant banter of two middle-aged women.
We were finally nearing the end of our longest training run to date, a full marathon distance. Well, it was actually supposed to be only 26 miles but Crazy Amy was having none of that. We would be tacking on another 0.2 miles to make it an official marathon distance.
Our finish coincided with the finish line from last weekend's 25K trail race where volunteers acted like cheerleaders for all of the racers.
Of course there would be no cheerleaders or other fanfare today. Just high fives all around.
Kinda surreal actually to finish my first marathon with no hoopla whatsoever. So goes the training of an ultrarunner apparently. Just another long Saturday run.
Sometimes we do things just because it's the right thing to do even though we may want to be doing something else.
As much as my body was not appreciating my marathon jaunt this weekend, I needed to follow the training plan to help ensure a successful finish at our upcoming 50K race.
So too it is with your Family Succession Planning.
I'm sure there are a million other things you'd rather be doing than planning your affairs for your ultimate demise.
You plan your affairs because it's the responsible thing to do for your loved ones and not because it's a particularly enjoyable pastime.
And no, your family won't thank you now (no fanfare here). But they WILL be thanking you when the plan is needed and you have saved them thousands of dollars in unnecessary legal fees and government interference.
You can schedule your Family Succession Planning Session here:
http://mypinklawyer.youcanbook.me
With our longest training run in the books, our celebratory beer tasted great. The next four weeks will include tapering runs, shorter distances just to maintain our fitness.
In less than a month, we shall see the fruits of our training.
Just as your loved ones will see the fruits of your planning in the future.
Kristen "Can Finally Call Myself a Marathoner" Marks