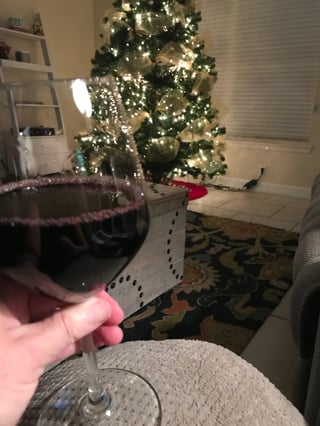 My idea of enjoying the Christmas tree.
"And the first step to decorating your Christmas tree is fluffing out the branches so it looks nice and full. Then you can apply the ribbon."
What?!
I just put the dang artificial tree together. Now you want me to "fluff" it too? I bought an artificial tree to make decorating it easier, not more time consuming.
My family loves having the house decorated for the holidays but no one ever wants to help with the "unsexy" stuff like hauling all of the Christmas bins out of the garage or hanging the outdoor lights up.
Of course everyone likes hanging the tree ornaments but that's after 90% of the work is done.
[Please no reply emails on why I should instead buy a real Christmas tree. We do that most years because I'm the only one in the family who likes the practicality of an artificial tree and I get outvoted most years. But this year I put my foot down because no one but me actually waters the tree or cleans up the copious amounts of pine needles that fall on the floor each night.]
With Saturday afternoon to myself at home, a rare occasion, I decided I would knock out the holiday decorating in one fell swoop.
Did I mention that I hate holiday decorating?
Sure, I love being in the space of a holiday decorated home. I just hate the physical act of decorating. You put everything up. You enjoy it for about a month. Then you gotta take it all back down again until next year.
I guess it's kinda like my feelings about cooking. I love to eat a home cooked meal. I just hate the physical act of planning and cooking it. After all, you spend all this time cooking, you eat it in about 15 minutes, then you clean it all up again, and have to do it all over again the next night. What's the point, I say?
So, I watch this dang video online about how to decorate my artificial tree with ribbon which I admit looked a little sad with nothing on it. Since I took matters into my hands this year, I figure I better try to get the tree looking a little respectable.
So fluff away I did….for about 5 minutes before I grew impatient.
Then onto the ribbon….which took me about 2 hours. Boy, that stuff is hard to work with, especially with two "very helpful" kitty cats supervising.
Crafty I am not, but, I must say that I was pretty pleased with the end result. The tree looks decent and it is now ready for the ornaments which the kids will hang when Jill comes home for her Winter break next week.
The outside lights are another story.
Being shamed into at least making some effort to decorate the outside of the house having neighbors on each side who go all out each year on their exterior decorations, I dragged out the icicle lights from last year.
I tested them first to make sure they still worked. [Hey, I'm not that stupid.]
But wouldn't you know, after they were all hung (yes, by myself again) and I plugged them in at dusk, entire sections along the back of the house did not light up. It looked ridiculous.
Unlike Clark Griswold from "National Lampoon's Christmas Vacation", I do not have the patience to troubleshoot the errant lightbulbs.
Forget this, I thought. If my family wants lights on the house, they can fix these lights or hang new ones. Doesn't matter to me. I'm done.
I've already told my husband that next year I am hiring a service to decorate our home and office. Let the professionals do it. I clearly don't know what I am doing and find no joy in the process.
***************
Just as I intend to hire a professional holiday decorator next year, clients hire My Pink Lawyer® to assist them with getting their affairs in order and to craft a solid Family Succession Plan for their loved ones that works when it needs to, rather than attempting it on their own through an online document assembly service. Let the professionals do it, right?
We are launching a new service soon to take your organization one step further to saved your loved ones even more time, money, and headaches. Details on this new service coming soon.
***************
In case you are wondering, I will not enjoy the holidays any less next year just because I didn't decorate my house myself (nor baked my own Christmas cookies for that matter).
Heck, I'll probably enjoy the holidays even more knowing that I didn't spend a weekend of my life struggling with a task that I am neither good at nor enjoy.
Kristen "No More Holiday Decorating for Me" Marks
P.S. I've posted the past few Facebook Live broadcasts on our website. You can watch them here.