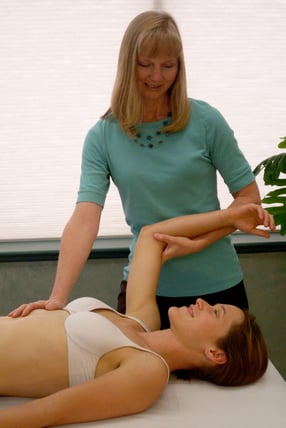 I wouldn't call myself an avid runner by any stretch of the imagination but I too try to stay in shape and I love to enter races as incentive to get off the couch.
Unfortunately, as a middle-aged woman who is closing in on 50 (yikes, when did that happen?!), tend to injure myself occasionally when I run.
Three years ago it was my Achilles tendon. Last summer it was my hamstring.
Stretching, ice, rest…nothing seemed to do the trick. I was in pain every time I ran.
Until I found Rolfing that is.
According to my friend and certified practitioner, Rolfing is specialized physical rehabilitation that eliminates the source of pain and movement restrictions.
The key to permanently eliminating pain and restrictions is resolving imbalances in the body's tissues that hold the muscles, bones, and joints in the correct position and keep them moving properly.
Rolfing restores optimal function to the body by working with ligaments, tendons, and the tissue that supports joints, organs, and muscles.
Rolfing is not a massage.
A Certified Rolfer uses his/her hands to get these tissues functioning correctly and in the right position so bones and muscles can move properly and support the body correctly.
Rolfing is painless and results last! In just a few sessions your body can move with ease and strength, in a balanced and coordinated way.
If you get only temporary or partial relief from therapies, adjustments, or medications, Rolfing could be your answer.
Rolfing can resolve old and new injuries, back, neck or joint pain, painful restricted movement, plantar fasciitis, poor posture, chronic muscle tension, repetitive stress injuries, headaches, and problems in shoulders, elbows, wrists, hips, knees, ankles, and feet.
The Pensacola area is fortunate to have my friend, Sharalee Hoelscher as the only local Certified Rolfer. Sharalee trained at The Rolf Institute, the only school providing the education and skills necessary to do this complex work safely and effectively.
Sharalee was able to resolve each of my running injuries and pain with one session each.
I tell all my friends that she is a miracle worker!
Rolfing isn't for all types of injuries (for instance, Rolfing did not resolve my daughter's torn labrum in her shoulder) but it is certainly worth a look if you have persistent pain that does not resolve itself.
Sharalee has been a certified bodyworker in private practice for 25 years (FL license #MA34039). Her office is centrally located in Cordova Square, Pensacola. Call her with your questions at 850-450-8508, or learn more at HealingWithBodywork.com. You can tell her that I sent you!