In case you are just tuning in, it's been a crazy couple of weeks in our household. We just dropped off our daughter, our oldest child, at college.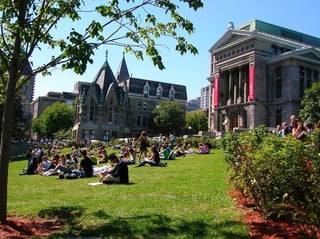 I have mixed emotions for sure but overall, I am so excited for this new adventure in her life.
You can read more about the drop off here.
As you can imagine, it was quite hectic leading up to the move. My daughter had quite the packing list both for her dorm and for rush.
As a family estate planning lawyer, I took the liberty of adding two more items to my daughter's packing list which every parent needs to send their kids to college with.
Although these items aren't "sexy" and your kids could care less about them, I promise you that as a parent, you will sleep better at night knowing your child has these with them.
Are you ready to learn what they are? Drumroll please….
They are financial & health care powers of attorney.
Every Student Should Have At Least a Financial and Medical Power of Attorney as They Go Off to College
As a mom to a young adult, it's shocking to realize that I no longer have any say or control over my daughter's finances or medical decisions. What?! She's still my little girl!
But now that Jill is officially an adult, not only does she have the right to make her own decisions, no one will even allow me access to her records any more.
This means that, heaven forbid, if she were in an accident and taken to the hospital, the doctors will not talk to me nor disclose any information to me about her condition.
Not UNLESS my daughter has granted me written authority to discuss such matters & make medical decisions on her behalf.
Without a valid written health care or financial power of attorney, parents of college students are shut out in cases of emergency.
Make sure the health care power of attorney your child signs includes a HIPAA release and if desired, a living will.
I had my daughter sign both a medical and financial power of attorney before we dropped her off at school. I am holding the originals at home in case they are ever needed (hopefully not).
I've prepared these documents for other clients too whose kids are going off to college.
If you're a Florida resident in the same boat with college age children, let our office know and we can prepare both powers of attorney for your child.
Better to be safe than sorry!