"So what other schools are you looking at?," Amy, the recent UT grad asked my son on our recent visit to Austin to tour the University of Texas at Austin.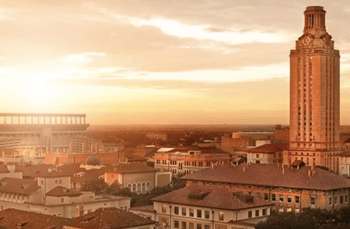 He spouted off the list of schools he had applied to and those that were his top choices (as of now anyway).
"Well, it was a tough decision for me too to decide where to attend college. I had a great experience at UT and obviously decided to stay in Austin after I graduated.
If I had gone to another school, I'm sure I would've been just as happy. Sure, my life would look different now. Who knows where I would've ended up? But it would've been just as great.
My point is that deciding where to attend college seems like this monumental decision to you now, but you will be happy wherever you land."
Those were the reassuring words from a 23 year old we met standing in line to order lunch at a popular Thai restaurant in downtown Austin. I wholeheartedly agree with the perspective.
I LOVE my life—my family, my friends, my business, my hobbies.
Sure, all of those details would likely look very different if I had chosen a different college to attend, a different law school, a different first job out of law school, etc.
But I've always believed that it all works out in the end, especially if you are willing to change course if you are dissatisfied with some aspect of your current life.
A wise sorority sister of mine once said over a few beers our senior year (as we were planning an impromptu trip to Mexico I might add) that, and I paraphrase here …
"So long as you are happy with your life, you should not regret any decisions you've made in the past because you would not be the person you are today were it not for this particular journey that you've taken."

In other words, our current lives and situations are the result of the culmination of all of the decisions we have made up to this current moment.
Despite my many neuroses and insecurities which I've shared with you on my blog, I would not trade my life for anyone else's. Sure, I have plenty of room for improvement (which you no doubt will continue to read about this year) but overall, I am extremely happy with my current situation.
I'm also happy with the planning that my husband and I have done for our kids should something happen to us.
Now that our kids are getting older and more settled (at least out of our house!), it is may be time to revisit our plan and perhaps loosen up some of the money strings. I'll chat with Andrew and we'll decide how we want to update our family succession plan.
You also have a carefully crafted and thoughtful Family Succession Plan in place, right?

If not and you are a Florida resident, you can get started by calling our office: 850-439-1191.

Our two hour family succession strategy sessions are only $197 which is a bargain considering what is at stake if you do not plan or have an out of date plan.
My son is hustling to see what scholarships he qualifies for at UT Austin.
But UT Austin or another school, I know he'll do great and be successful wherever he attends college.
Because the good news for you and I and my son is that the possibilities in our lives at any given moment are boundless. There is no right or wrong decision per se. Just forward progress. Onward!
Kristen "It Always Works Out In the End" Marks