Although we still have not moved into our new condo that we have been renovating and there are still a lot of "moving pieces" to get ready to move in, Crazy Amy has dragged my ass back out on the race circuit and into the woods.
We have THREE (3!) ultra trail races on the books after the New Year (January, February and March) and neither of us have been trail running since Pikes Peak the end of July.
Granted, I have fairly good excuses for my "slackerness" in recent months:
Rest and recovery following the intense training leading up to Pikes Peak
Moving my daughter back to college
An intense sinus infection that knocked me on my ass for three weeks
Renovating a condo for the last two months
My five day low calorie fast during which I gave myself a reprieve from working out
And yes, work has been busy (not complaining!)
But the time has come to set aside my excuses and get back on that running horse again. I can always count on Crazy Amy to call me on my bullshit excuses, especially with the threat that she won't be running the upcoming Krull Lake Half Marathon trail race with me next month if we don't hit the trails before then.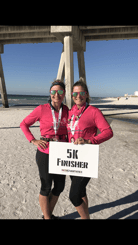 So after this past weekend's NeoEndurance Pensacola Beach 5K held on the sand, Amy made me look at my calendar and we scheduled three upcoming trail runs to train for the upcoming half marathon.
I have many clients who admit that before coming in for their Family Succession Strategy Session, they too were being "slackers" and had a litany of excuses for postponing the estate planning that they knew they should be doing for their loved ones:
Too busy at work to sneak away for the planning session
Don't want to think about death or "something bad happening" to them
Don't want to jinx their fate by estate planning
Concerned about the cost of planning
Not sure if they should attempt to plan on their own or work with a professional
Not sure which professional to trust to work with
I cannot give you any more hours in the day, but like me carving out time in my busy schedule to train for races that are important to me, you too create time to do the things that are important to you.
After all, you make time to attend your children's plays, sporting events, attend weddings, funerals, have "date nights" with your spouse, and "girls nights out" with friends.
Planning for yourself and your loved ones is no different. I do not have a crystal ball but I can assure you that the time will come when you no longer have the opportunity to plan so you better plan now while you are healthy enough to do so.
Ok, enough of my preaching. I'm signing off now to plan my weekend of furniture deliveries and trail running.
So much for a relaxing weekend watching football. Damn you, Crazy Amy!
Kristen "Getting Back Up On That Trail Horse" Marks