I awoke this morning for the 10th day in a row to the sound of waves crashing against the shore. A light breeze rustled the curtains and, dare I say it, it was downright chilly this morning prompting me to pull on a pair of yoga pants and a long-sleeved shirt as I moved to the porch to write this morning's post.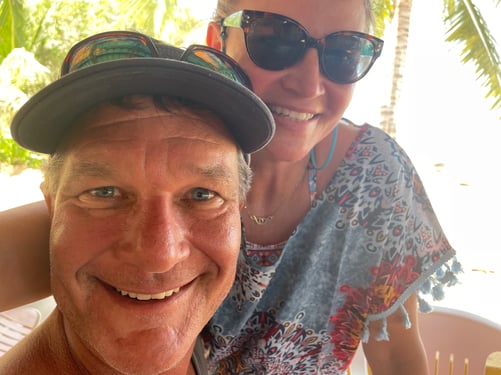 My husband and I flew down ten days ago to Zihuatanejo which is located on the Pacific Coast of Mexico between Puerta Vallarta and Acapulco. You may recognize the name from the ending of the movie "Shawshank Redemption" (the ending scene was not filmed here by the way).
Yes, the visit was a planned vacation but, even more so, a scouting trip for Andrew and me (now empty nesters) to discern if "Zihua" is where we want to land at least part-time during the next phase of our lives. To quote the movie that made Zihua famous, we want to "get busy living rather than get busy dying."
Although we have visited several towns and countries in Latin America during our marriage, no place thus far had "spoken" to us as a place we might want to live part-time. Andrew fondly reminisces about his one and only visit to Zihua as a teenager with his parents and, always up for a new adventure, I happily agreed to start researching the area and booked our plane tickets for a visit.
Planner that I am, I also started watching YouTube videos of the area posted by expats and visitors to the area (highly recommended for any new place you plan to visit), joined local Zihua Facebook groups, and began researching real estate for sale.
Meanwhile, Andrew, one-track mind that he has, researched the fishing in the area and local charter boat captains.
Fortunately for Andrew who really hoped I would like the town, I immediately fell in love with Zihua and the surrounding area, the people, the food, and the local culture.
While Andrew fished the first couple of days of our visit, I explored the area by foot, Google maps in hand on my phone. There's nothing like "boots on the ground" to learn the surrounding neighborhoods and start to get one's bearings for a new location.
I also brought my laptop with me as a test to see if this town was conducive to working remotely. It passed with flying colors.
On our third day here, we toured some properties for sale with a local realtor with whom I had been communicating with since January.
Andrew and I THOUGHT we knew what we were looking for in a property down here. However, professional that she is, Yadira began our initial meeting by asking us lots of questions about what we were looking for and, more importantly, WHY those things were important to us. She offered us valuable feedback, allowing us to set reasonable expectations for ourselves in our property search. In fact, after some discussion, some items on our "wish list" just did not turn out to be as important to us as we initially thought.
For example, in every single email with Yadira, I explicitly told here that we wanted to immerse ourselves in the local community and therefore, did not want to look at properties in Ixtapa, a neighboring city which we thought was more touristy than Zihua. Yadira assured us that Ixtapa has a vibrant local community and many Mexican Nationals prefer to visit Ixtapa rather than Zihua. In fact, Yadira herself lives in Ixtapa.
Surprising to us both, Andrew and I agreed to visit a property for sale on the outskirts of Ixtapa, just a $5 ten-minute cab ride from the pier in Zihua.
Similarly, when I meet with clients, sometimes they think they initially know what they want their plan to look like based on talking with friends and family. But after further discussion about the pros and cons of their intended plan, they come to a different conclusion.

And other times, clients don't know exactly what they want when we meet initially. But after further conversation, we start to formulate an estate plan that will best protect their loved ones and help them sleep better at night.
Wow! We were speechless (which doesn't happen often to either of us) when we toured the place. Never in a million years did we dream that we could purchase a turn-key, ready-to-move-in fully furnished three-bedroom, three bathroom second home with sweeping views of the Pacific Ocean within our budget.
We made an offer on the property that day which the owners accepted! Given the more complex process of foreigners owning real estate near the coast in Mexico, we hope to close sometime in late Summer or early Fall.
Just like one's estate plan should evolve as your life changes and your children grow older and start their own families, this particular home may not work out (although we are super hopeful it does) or we may decide at some future date that another neighborhood around Zihua will serve us better (we've seen some great ones). If so, we will remain flexible and change our plans as needed.
Adriena and Angela have been holding down the fort for me but I am back in the office tomorrow!
Kristen "Getting Busy Living Rather Than Getting Busy Dying" Marks
Founder of My Pink Lawyer®--Florida Wills, Trusts, Estate Planning Lawyers
Office: 850-439-1191
P.S. I've posted photos of our Zihua adventure that you can view online here: https://www.polarsteps.com/MyPinkLawyer