It's been a whirlwind few months for the Marks family.
It's a good thing we love to travel because our year so far has consisted of the following travels:
We spent the month of February in our second home in Zihuatanejo, Mexico. (Ironically, our WIFI and cellular phone service works even better there than at our home on Pensacola Beach so staying connected with the office is not a problem!)
We traveled to Sedona and Flagstaff, Arizona in early April with friends.
Our son graduated from college at the University of South Carolina the first weekend of May.
Crazy Amy and I ran a 30K trail race in Bryce Canyon, Utah the end of May.
We spent another week in Zihuatanejo earlier this month and then flew directly to NYC for a family reunion and our nephew's Bar Mitzvah celebration. This was also our send-off to our daughter, Jill, who left for her year-long backpacking trip around Europe!
We have our annual Marks family beach week next week in Seaside. (Our office will be closed on Monday and Tuesday, July 3rd & 4th).
I am actually tired just thinking about our travel schedule the first half of this year but I would not trade the adventures for anything.
Being married 28 years as of this Summer, I am fortunate to be with a man who enjoys spending time with our family and traveling as much as I do. Some folks spend their time and money on dining out, clothes, "toys," nice vehicles, etc. As a couple, we enjoy spending our money on travel and experiences.
Our favorite latest travel splurge was First Class airline tickets on Delta from Mexico City to New York City (a five-hour flight). Boy, are we spoiled now! Full reclining seats, a full meal, free drinks, a large screen tv…the list of travel perks in First Class are unbelievable. I felt like that Seinfeld episode where Jerry is flying First Class while Elaine is stuck with the "minions" in Economy Class.
It was even more fortuitous to have First Class seats on that particular flight because we were delayed on the tarmac for four hours due to the extreme heat. The plane was overweight for the heat and altitude and the pilot eventually asked for 16 volunteers to disembark. You can bet that we were not volunteering for anything!
Three movies, a new tv series, two craft beers, a full pasta dinner and dessert, followed by a two-hour snooze in my cozy lie-flat bed, and we arrived in NYC at 3:00 am, five hours late. But we were not complaining!
Let me ask you a question. Have you taken the time to discover what truly brings joy to YOUR life?
Until you find clarity on how YOU enjoy your journey in this life, you may find yourself spending your time or money mindlessly.
For example, I know for Andrew and me, we have discovered that as much as we enjoy eating, we are really not very picky with food—we are definitely not "foodies." Same goes for clothes. I like looking good, but I definitely do not follow the latest fashion trends nor care about brand name labels.
Once you know what is NOT important to you, you can ruthlessly cut back on spending your time and money on the things that do NOT bring you joy, and instead, redirect your time, energy, and money on the things that DO bring you the most joy.
I really wish I had discovered this simple secret to enjoying life's journey earlier because I cringe at the time and money I have wasted over the years on things that are not important to me, either because it was what everyone else was doing, or out of boredom, or lack of clarity with what brings my joy.
A great journal that has helped me personally discover the areas of my life that bring me the most joy is the "I Will Teach You to Be Rich: Journal" by Ramit Sethi. Corny title, I know. But hey, who am I to "throw shade," with a business name like My Pink Lawyer®, right?! But the content of the journal can be life-changing. I am a huge fan of Ramit. He also has a new Netflix show that recently launched.
Just as it is important to discover your priorities in your life, it is also important to discern your priorities with your estate planning. Our attorneys are unique in that we are really good (if I do say so myself) at asking lots of questions to help you discover YOUR estate planning goals. Not your neighbor's estate planning goals, or your parents' goals, or your best friend's goals. YOUR ESTATE PLANNING GOALS.
Summer is a popular time to schedule estate planning consultations with school out but we do still have availability and our attorneys would love to chat with you. You can call our office to coordinate our schedules: 850-439-1191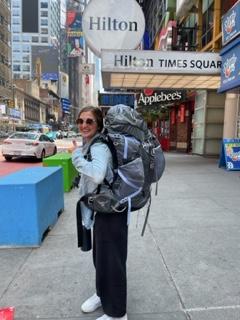 Our next big travel adventure will be visiting Jill in Europe sometime this Winter. Who knows where she will be at that time as her plans are fluid. I secretly pray, however, that she is someplace warm when we visit. And you better bet that we are saving up for First Class tickets!
Kristen "Spoiled in First Class" Marks
P.S. If you are on Instagram and want to follow Jill's adventures abroad, you can follow her at @jetsetting_jill.