"I'll be right back. I'm gonna go kick your son's a*s," my husband called out to me from the other room.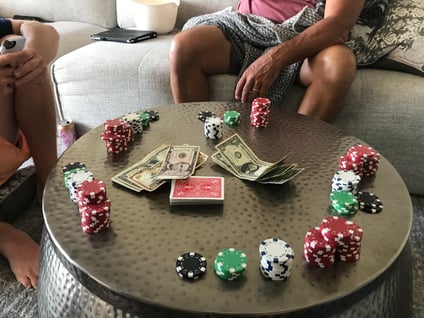 No, not corporal punishment. Just some typical Marks family competitive trash talk.
With the mandate of Florida's safe-at-home order, our kids decided they would start cooking us dinner on Friday nights. Each meal has been delicious, by the way.
After the first Friday night meal, our college kids decided they would teach my husband and I poker.
You know. Some good, clean, wholesome family fun.
So began our almost nightly Texas Hold 'Em poker tournament after dinner.
With a $5 buy-in, and apparently a master video poker king, our son is cleaning up big-time. At this rate, he won't need to find a summer job, though I may have to start moonlighting a little to continue affording the nightly buy-in.
One of these days, I will win one of our tournaments. At least so goes the positive affirmation in my head.
The only thing I have going for me is that I am SO BAD and have no clue what I'm doing, that my family has no way to read my bets. I can bluff with the best of them but that's only because I still don't understand if I am holding a good hand or not. Let's call it unintentional bluffing.
On the other hand, you can read my daughter's face like a book when she is dealt a good hand. She's had to resort to wearing her cloth face mask when we play.
Although I'm sure most everyone reading this post is way more savvy at poker than I am, I do see many common misconceptions and unfounded confidence in the future transition of one's assets. For example:
My Will controls who inherits my assets when I die
My Living Trust controls who inherits my assets when I die
I don't need to leave anything to my spouse because they have sufficient assets of their own
I can leave my home to whomever I want when I die
My family will honor my wishes when I die
My assets avoid probate because I have a Will
My assets will require a probate when I die because I don't have a trust
The answer to each of the above statements for your situation is … it depends.
Our firm specializes in custom Asset Transition Strategies for Florida families.
The same exact Will or Trust obtained from Legal Zoom or another DIY document drafting service is that the end result for each family will be different depending on a variety of situational factors. A one size Will or Trust definitely does NOT fit all.
That's where a qualified attorney who specializes in Florida estate planning and asset transition strategies are worth their weight in gold. They can help you see the blind spots in your plan and, unlike the blind luck of the next turn of the card, can help you formulate a custom, effective transition plan to ensure your desired wishes are carried out in the future.
If you want to learn more about our office or to see if you have "blind spots" in your current plan, I am hosting FREE 1-on-1 ten minute exploratory calls every day this week at lunch between Noon-1pm.
No preparation is needed. I will call you at the appointed time and you can ask me anything in the time we have together. Then, if you think we may be a good fit to work together, we can schedule your Estate Planning/Asset Transition Strategy Consultation for another day.
Call or email our office today to schedule your FREE Exploratory Call: 850-439-1191 or info@mypinklawyer.com
I promise that if we do end up working together on your Asset Transition Strategy that I am a much better Florida estate planning attorney than I am a poker player. And I won't bullsh*t or bluff you either.
Kristen "Not Trading In Her Day Job for the Poker Circuit Anytime Soon" Marks