So it's happening.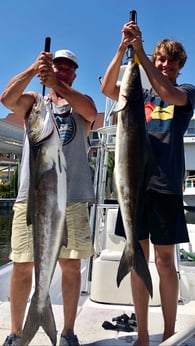 My son (our youngest) is graduating on Saturday from high school.
Not one for ceremony or the pomp and circumstance, Drew probably wouldn't even attend his own graduation ceremony if we didn't have family flying into town to watch him walk across the stage to receive his diploma.
My son doesn't think it's a big deal to graduate from high school (although it is). He's already got one foot out the door headed to college. I suppose that's not a huge surprise since he finished his exams three weeks ago.
Drew will be attending the University of South Carolina in the Fall. He was accepted into the Honors College and the Darla Moore School of Business to study international business.
As part of the IB (international business) program, he will have to study a foreign language and become business fluent in that language by the time he graduates.
So does my son choose an "easy" language like Spanish or French?
Of course not.
Drew will be studying .... drum roll please....
Russian!
"Uh ... they don't even use the same alphabet, son."
But he's a man with a plan apparently.
Not to be outdone by her little brother, my daughter, Jill, just finished her Sophomore year at the University of Alabama and has been accepted into the Manderson Graduate School of Business in the Fall.
Yup, she'll be finishing both her undergraduate and master's degrees and still graduate in four years with her Master's Degree in Marketing and a minor in Public Relations.
Law School may then be on the horizon for her. At least that's the current plan.
My husband is amazed at how motivated both of our kids are.
To hear him tell it, Andrew's college years were filled with fraternity parties, girls, Spring Break road trips, and other fun "extracurricular" activities. He says the only time he stepped foot in the class room was to take the exam. Having his younger sister in a lot of the same classes helped apparently because she did attend class and was an "excellent" note taker.
Needless to say, Andrew and I are both very proud of our kids and I know you probably are too if you have kids.
I'm not naive enough to think our kids won't ever return to the nest but we've done the best we can to raise independent, self-sufficient kids.
I think they'll be ok.
More importantly, I think WE'LL be ok too!
Thank you for indulging my braggadocio this morning.
Kristen "Proud Mama" Marks